I grew up in La Mesa, California, a suburb of San Diego. According to my mom, we went to Anthony's Fish Grotto next to the Interstate 8 freeway in the 1960s or 70s but I don't remember. The last time I remember eating there was in the 1990s. I recall liking it but I was mad when they replaced their huge, beautiful sign with fish of different sizes (see postcard below) with a boring blue and white glass sign. After some friends' recent visit to Anthony's Fish Grotto in La Mesa, I decided to try it again.
In 1946 Catherine "Mama" Ghio and her sons Anthony and Tod with her son-in-law Roy Weber opened a small diner at 965 Harbor Drive in San Diego to serve Mama Ghio's seafood dishes from her secret fish batter and sauce recipes. Anthony was host, Tod prepared the fish, and Mama and Roy did the cooking. The restaurant was a hit and in 1951 the business expanded, opening a larger restaurant on the Pacific Coast Highway and a modern new restaurant in La Jolla.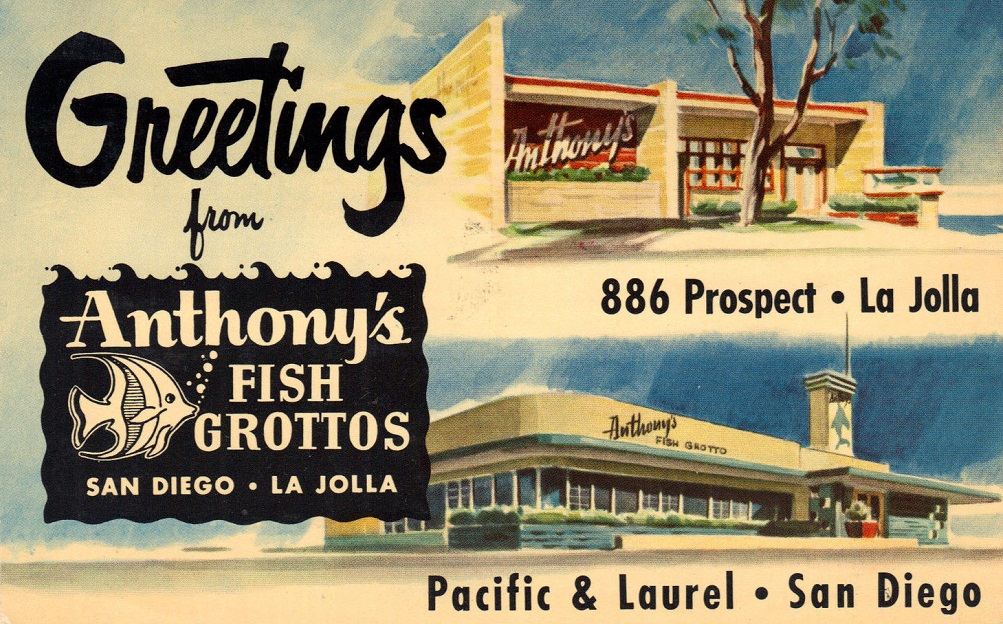 A wholesale fish market was added in 1954, which still serves as the source of the seafood at Anthony's, obtained from both local fishing boats and distant seas.
In 1960 Anthony's hired popular local architect C. J. "Pat" Paderewski to design a modern new restaurant next to a historic pond in La Mesa and to boldly redesign the La Jolla location.
The La Mesa location opened in January, 1961, and is still open today.
The La Jolla restaurant closed and unfortunately was demolished in 1983.
In 1966 a brand new Anthony's Fish Grotto was built on the downtown San Diego waterfront.
Designed by the architectural firm Liebhardt & Weston, it included the main Fish Grotto and a fine dining restaurant, the Star of The Sea Room, where jackets and ties were obligatory.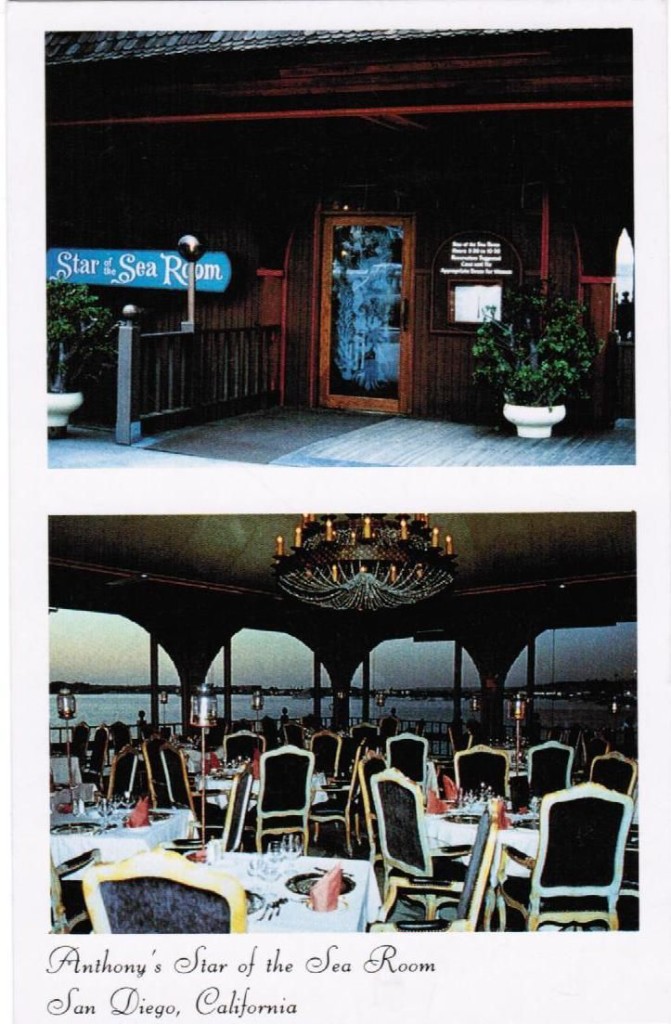 The 1970s saw the opening of the Seafood Mart (1973), the Chula Vista Fish Grotto (1974, closed 2011), and Anthony's Harborside (1976, closed 1991). In 1983 a Fish Grotto opened in Rancho Bernardo (now closed) and in 2006 the Star of The Sea Room was remodeled and rebranded, only to close two years later, becoming a private event space.
Mama Ghio passed away in 1994 at 97 years of age, but Anthony's is still run by the Ghio family: Anthony's son Rick, Tod's son Craig, and Roy's daughter Beverly.
My recent visit was to the La Mesa Fish Grotto, which doesn't have a bay view like the San Diego one, but it has fanciful grotto decor inside a mid-century modern building. You enter the restaurant through a huge clam shell-shaped portal past a rock grotto with a waterfall.
Inside the foyer and bar area the walls are covered with rock with nooks and crannies that contain sea flora and fauna. It's well done so it doesn't seem tacky.
The main dining rooms are in a modern post & beam building (as seen in the 1961 photo above) with large picture windows overlooking the pond, which was originally used as water storage for a wooden flume that was constructed in 1885-88 to carry water from Lake Cuyamaca. Fountains shoot out of fishes' mouths into the water and there is a fountain in the middle of the pond.
The dining rooms have many booths along the picture windows, upholstered in aquatic colors, as well as a few tables and some large booths along an interior rock wall, which features a beautiful mosaic tile mural of Poseidon (aka Neptune) and Amphitrite riding a combination horse and sea creature. There is also a large dog-friendly patio for dining alfresco next to the pond (which you can see in the photo above).
The menu is pretty extensive so, as in all seafood restaurants, order wisely. It is usually a good idea to ask your server what is fresh that day and what preparation they recommend (at Anthony's you can get your fresh fish prepared in various ways). I tend to order a simple preparation such as grilled or sautéed with a simple pan sauce such as a Picatta sauce because heavy sauces can often overpower fish. On my recent visit to Anthony's La Mesa I ordered fresh wild king (Chinook) salmon, described as line-caught, which is rated as a good choice by the Monterey Bay Aquarium's Seafood Watch guidelines. I ordered my salmon grilled with the lemon-dill sauce on the side and with redskin mashed potatoes and homemade cole slaw with creamy pineapple dressing. The fish was fresh and cooked perfectly. Everything was delicious including appetizer we had, crispy Brussels sprouts with bacon.
As I mentioned before, Anthony's has been in the news this year. The restaurant's lease with the Port of San Diego expires in 2017, so the Port planned to negotiate the site's redevelopment with two local restaurant chains, excluding Anthony's. After this news was released the Ghio family asked the port to consider their proposal for a new plan for the site and the Port agreed to do so. Whatever the Port decides, you still have time to visit Anthony's Fish Grotto in San Diego or La Mesa. Le Continental recommends the La Mesa location for its atmosphere over the San Diego location, which is in a nice modern building but is furnished with cheap looking furniture that looks like it should be in an ice cream parlor or deli and not a seafood restaurant with a harbor view (wood furniture would have been a better choice, imo).
Anthony's Fish Grotto
9530 Murray Dr, La Mesa, CA 91942
(619) 463-0368
Open daily 11:00am – 8:30pm (9:00pm on Friday and Saturday)