I'm trying to catch up here on some Bay Area restaurants that I've dined at in the last two or three years. The Van's (yes, it's The Van's, not Van's) was a very pleasant surprise on my first visit with friends a couple of years ago.
The Van's is located in an Asian style house, so you would expect it to be a Chinese or Japanese restaurant, but it's not. The house was originally the Formosa Tea House in the Japan Garden at San Francisco's Panama Pacific Exposition on 1915. When the expo ended the house was moved to a barge and shipped across the bay to Belmont, California, down the Peninsula south of San Francisco.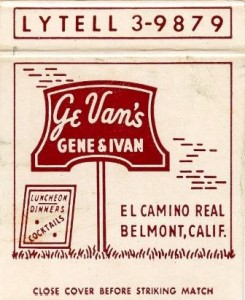 For years it was a private residence, until 1933 when it became Elsie's saloon. In 1947 Gene Sowle and Ivan Sawyer purchased it, calling it Ge Van's restaurant from their first names. In 1957 Ivan Sawyer took full ownership, shortening the name to The Van's. It was sold to the current owner, Loring Di Martini in 1973.
The Van's is on a hill so offers gorgeous views of the peninsula down the the bay, especially at night. When you enter the front door on your right is the bar and to your left is the main dining room surrounded by windows. There are two smaller dining rooms on the first floor, also with views. Upstairs is a large dining room for private events. There are some historic photos on the walls and some vintage wallpaper in an Asian motif, but otherwise the rooms are fairly simple, with dark wood walls and tables covered with white tablecloths. The view and the food are the stars here.
The Van's specializes in Prime Rib and mesquite broiled meats, including several steak cuts, rack of lamb, pork chops, and local chicken. I went for the signature steak, a USDA prime, aged bone-in rib eye they call 'cowboy style' (almost one and half pounds of delicious beef). They take their steaks seriously here, so they even have a detailed guide on the menu on how they cook your steak to your specifications, which I think is great because it takes the worry out of ordering. I prefer my steaks medium rare to rare, depending on the restaurant. Some places cook medium rare a bit too much for me but I don't like to order rare because sometimes the meat is a little too raw. But at Van's medium rare is "mostly warm red, surrounded by a little pink to the crust" – just perfect for me. They can even do your steak 'black and blue' – charred exterior, cool raw center! You will get a good crust on your steak from the mesquite broiler, as you can see in the picture above. With your meat you get a choice of potato or rice, vegetables, and crunchy onion strings. They also offer many other dishes on the menu, including eight to ten choices each of appetizers, salads, pastas, and main courses. You have plenty to choose from at The Van's. I found the food excellent on my visit, from the appetizers to the dessert. Dishes range a lot in price so you can spend a little to a lot, with many entrees in the $10-$20 range and steaks in the mid $20s to mid $40s (dinner menu). The also have daily specials posted on their web site that change often.
Currently there is a deal on Living Social of $75 towards dinner for two at The Van's on Sunday through Thursday for $45.
The Van's
815 Belmont Ave, Belmont, CA
Phone: 650-591-6525
Open for lunch Mon – Fri 11:30am – 3:00pm, dinner Mon – Thu 3:00pm – 11:00pm, Fri 3:00pm – midnight, Sat – Sun 4:00pm – 11:00pm