For a long time I've been wanting to dine at the venerable Taix French Country Cuisine (the official name, though everyone just calls it "Tex") in Echo Park in Los Angeles. Recently I passed through town during Los Angeles Restaurant Week and they were offering a special 2-course lunch for $20 (weekends included) so I jumped at the chance and had Saturday lunch in the bar (the dining room isn't open for lunch on Saturday).
The original Taix restaurant was opened in 1927 by Marius Taix, Jr. in the ground floor of his father's hotel, the Hotel Champ D'Or, at 321 Commercial Street in the French district of downtown. I believe that the hotel was a Basque boarding house, because the original Taix served food in the style of the many Basque hotel restaurants which still exist in California and Nevada.
As could be seen on the above sign food was served table d'hôte – multiple courses with a choice of entree – "family-style" on long tables. Taix specialized in roasted chicken dinner (50 cents in 1928) served with salad, a large tureen of soup, potato, vegetable, and French bread. When the restaurant would fill up at dinner time food was served until everyone was satisfied. So a single seating like some Basque restaurants still do today, such as at Noriega in Bakersfield.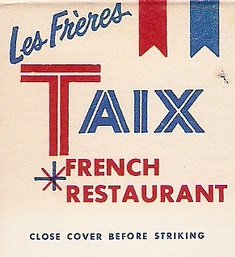 In 1962 Julius Jr.'s sons Raymond and Pierre, who started washing dishes at Taix when they were children, opened Le Frere Taix (The Brothers Taix) with some family partners on Sunset Blvd. (U.S. 66) in Los Angeles. The original downtown restaurant closed in 1964 to make way for a parking structure for the federal building. Raymond eventually became sole owner of the new restaurant and the name reverted back to Taix.
Raymond's son Michael Taix runs the restaurant today, though Raymond remained involved in running it until he passed away in 2010. Next year it will be 90 years in operation by the same family! Speaking of longevity, many of Taix's staff have been working there for decades. Three men, Jose Fragoso (banquet waiter), Fernando Gomez (bartender), and Bernard Inchauspe (dining room waiter), have worked there over 50 years!
Inside the Restaurant
The bar and restaurant are suitably dark. There is a large TV at one end of the lounge and a small TV over the bar, but where I was sitting for lunch on one of the banquettes along the wall they weren't obvious or annoying. The bar has entertainment on Wednesdays and Fridays so if you're looking for some action those are the nights to go (or avoid if you're looking for a quiet repast).
There is a nice waiting area with some leather couches and a great fireplace which made me wonder if it is ever used anymore in the cooler months.
The dining room was remodeled recently but it still has nice tin ceilings and chandeliers (though I don't understand why they partly covered them up with shades – see photo below for before picture). There are booths upholstered in a floral fabric and fresh flowers in vases decorate the room. I think they have additional dining rooms but they may be for large parties and I didn't get a good look when I was there because the lights were turned off.
The Menu
As you can see above in the original menu from 1962 they still served primarily table d'hôte, with a choice from 4 entrees (pot roast, roasted chicken, filet of sole, or steak) or the daily special, which came with hors d'oeuvres, soup, salad, vegetable, potato, cheese, coffee, and sorbet. A lot like classic Basque restaurants in the West.
Today's menu is much longer and a la carte, with several choices of entrée, including a different special each day, that comes with soup du jour or salad. For my lunch I had the excellent Moules Maison (mussels with leaks, wine, butter, and cream) and the Ahi tuna tartare, which was the perfect dish for a summer lunch.
The dishes are tried-and-true classic French country cuisine (no haute cuisine here), such as duck a l'orange with wild rice (Saturdays), rabbit with mushrooms, pearl onions, and mustard (Thursdays), veal stew (Sundays), oven braised oxtail (Tuesdays), escargot, frogs legs Provencales, and steak frites. And the prices are reasonable.
Taix French Country Cuisine
1911 Sunset Blvd, Los Angeles, CA 90026
(213) 484-1265
Open Mon-Thu 11:30am-10:00pm, Fri 11:30am-11pm, Sat 12:00pm-11pm, Sun 12:00pm-10:00pm, 321 Lounge menu is served Wed-Sat from 10:00pm-1:00am
Note: On Saturdays lunch is served in the 321 Lounge