UPDATE: Fleur de Lys in San Francisco closed in 2014 after 44 years in business.
In honor of that uniquely American celebration of love, Valentine's Day, I thought I would share a few of my favorite romantic restaurants. Starting with the most wonderfully over-the-top romantic steak house of all, the Gold Rush Steak House at the Madonna Inn in San Luis Obispo, CA. Many steakhouses go for the dark woods, mens' club look, but this one is for couples! I believe it opened in 1967, but I have not confirmed that yet.
In San Francisco my pick for the most romantic historic restaurant in town is Fleur de Lys, opened in the late 1950s, and purchased in 1970 by the maître d'hotel Maurice Rouas, who still runs it, with Alsatian chef Hubert Keller at the helm. It was remodeled over the years (and even closed for a while due to a fire in 2001), but now it is an elegant, plush room with a large chandelier and a gorgeous flower arrangement in its center. The food is primarily classic French, but with California touches like local, seasonal ingredients and healthier preparations. The service is impeccable. It is still one of the finest historic restaurants in a city of trendy restaurants that come and go, so it deserves a mention here on Le Continental, despite its contemporary decor. Here is a vintage postcard view of the interior.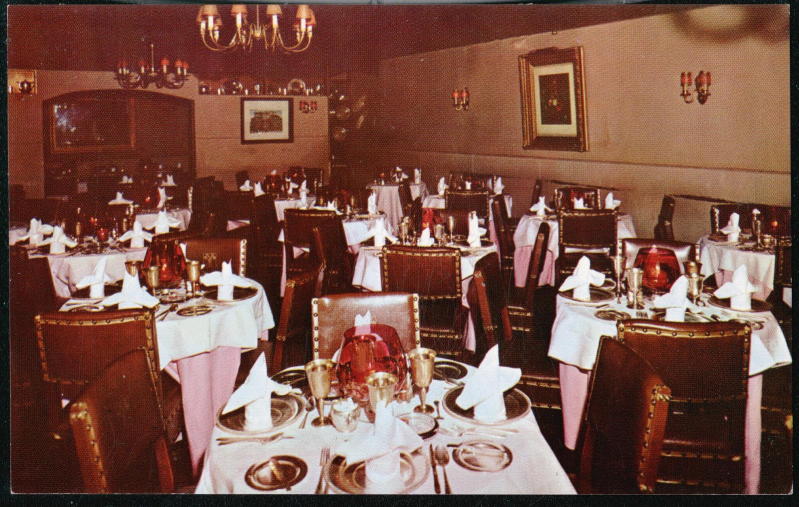 On the east coast one restaurant stands out for me as a romantic destination: The Mai-Kai in Fort Lauderdale, Florida. The Mai Kai is easily my favorite restaurant in the entire country, because it is the only large Polynesian supper club left from a time when they existed all over the country, and because…well, it's just fabulous beyond belief! I always have a hard time describing it to people who have not been because there is so much to see and I don't want to ruin the surprise. So I will just recommend that you go as soon as you can, and the first time you visit, go with your spouse, lover, or partner for a romantic dinner show for two. It's also fun with a group, like at the Hukilau festival that occurs there every year, but I think one's first visit is best as a romantic night out for two. More on the wonderful Mai-Kai in a later post.
Romance should not only happen on Valentine's Day. Visit these places anytime for a special date!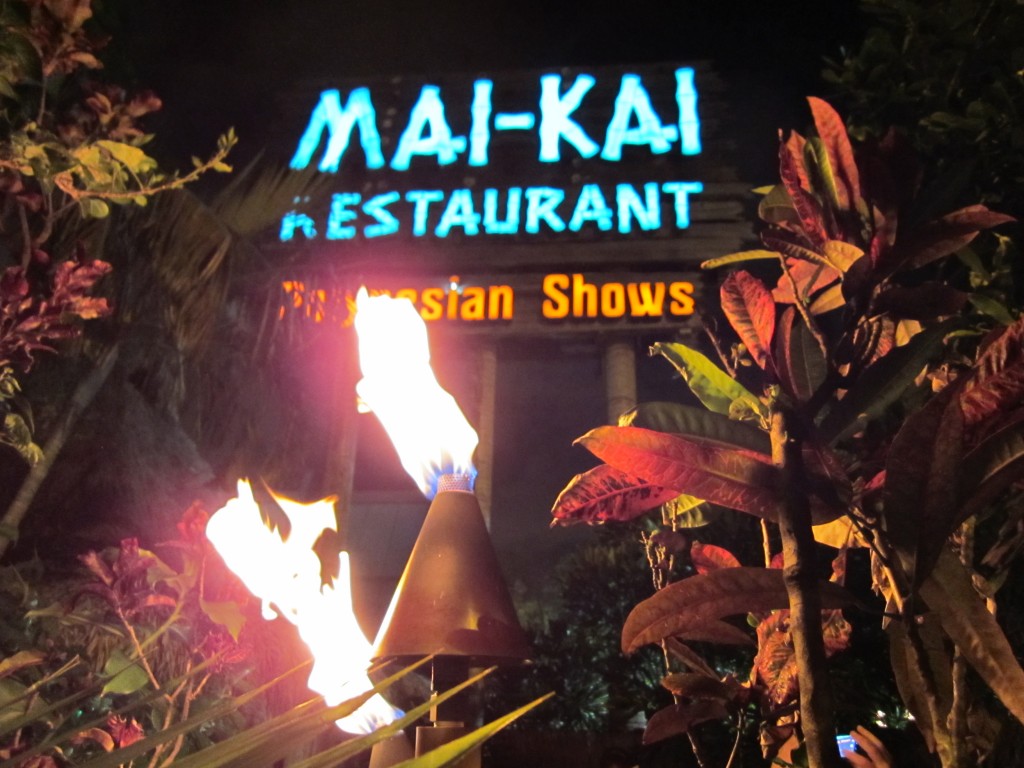 Gold Rush Steak House
100 Madonna Road  San Luis Obispo, CA 93405
(805) 543-3000
Open 5pm – 10pm Mon–Sat; 4pm – 10pm Sun

Fleur de Lys
777 Sutter St., San Francisco, CA 94109
(415) 673-7779
Open Tue-Th 6pm-9:30pm; Fri 5:30pm-10pm; Sat 5pm-10pm; closed Sun-Mon

Mai-Kai
3599 North Federal Highway  Fort Lauderdale, FL 33308
(954) 563-3272
Open daily at 5pm