Recently someone asked me if I had been to Savannah, and I answered with a hearty "YES!". I stayed there on my Georgia road trip in 2005 (also see earlier posts here and here) and was quickly charmed by the town, with its lovely tree-filled streets of historic homes, its riverfront setting, and with my lodging choice, the Thunderbird Inn, which was restored by the Savannah College of Arts and Design (SCAD).
Johnny Harris restaurant is located in Savannah on old U.S. Highway 80, which before the Interstate Highway System traversed the entire country from San Diego, California, to Tybee Island, Georgia (much of the old highway still exists in San Diego County and is a great time-warp drive that I highly recommend). Named after the founder who opened a small barbeque shack in 1924, the restaurant opened at its current location in 1936. Johnny Harris passed away in 1942, but his partner Red Donaldson took over the restaurant and it's still run by the same family.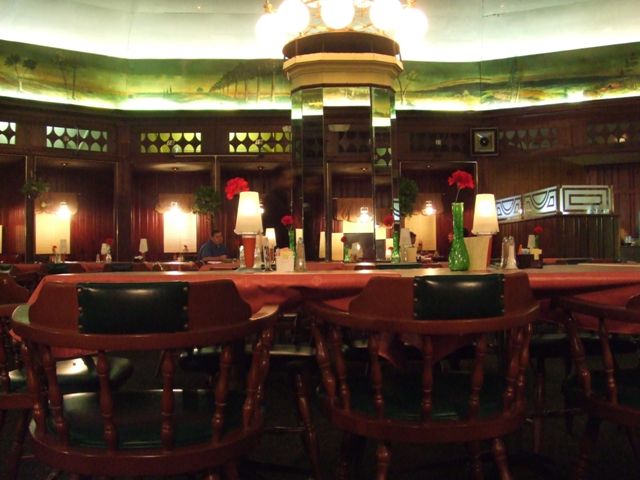 The main dining room is a large circular space with a high domed ceiling with illuminated "stars", a bar in the center (above photo), gorgeous partitioned wooden booths below a mural around the outer wall, and tables and chairs in the space between. A lot of people could eat in this room, but when I went for dinner it was pretty quiet.
The restaurant has a diverse menu but it specializes in barbeque. I had their "famous" fried chicken & BBQ pork combination plate. The meal was served with a small bowl of a South coastal specialty, Brunswick Stew, a traditional tomato-based meat and vegetable stew, wedge fries, homemade dark bread, and coleslaw. The highlight was their tangy barbecue sauce. It was so good that I brought home a bottle of the stuff.
If you are ever in Georgia, a visit to Savannah is a must. It has some of the charms of New Orleans but without the party atmosphere. And when you go you should visit Johnny Harris. The BBQ isn't the best in Georgia, but eating good food in such a beautiful, classic dining room makes it worth a visit.
Why not do a U.S. Highway 80 road trip across the country from San Diego to the Atlantic coast in Georgia? I pretty much guarantee you will have a better time warp experience than you would driving most of Route 66 (mostly swallowed up by I-40). Take out your road atlas and look it up. US 80 is pretty much intact across the eastern half of its route across the country. In Georgia and Alabama it exists far from any interstate highway, which I have found helps to preserve old places (restaurants, motels, etc.) because they don't have the competition they would near an interstate where chain motels and restaurants pop up like weeds. In Mississippi, Louisiana, and east Texas it closely parallels I-20 but it still exists separately. West of Dallas it was merged into I-20, though it probably exists in most towns and cities as "Old Highway 80". Road trip! Let's go!
Johnny Harris
1651 E Victory Dr, Savannah, GA 31404
(912) 354-7810
Open Sun-Thu 11:30am – 9:30pm, Fri-Sat 11:30am – 10:30pm