UPDATE: The Imperial House is no longer a Continental restaurant as it was in 2013 when I posted this. It has been a fine dining steakhouse for several years. Thankfully, the decor has not changed. For more info please visit Imperial Steakhouse.
San Diego's last holdout for classic continental dining in a perfectly preserved dining room, the Imperial House opened in 1969 (it is still owned by the same family) in a mid-century apartment building overlooking Balboa Park in the Banker's Hill neighborhood (my old neighborhood). It was great returning there recently to dine with friends from San Francisco who were in San Diego at the same time as me. My last visit to the Imperial House to dine was back in 2003, though I have visited the bar a few times since then.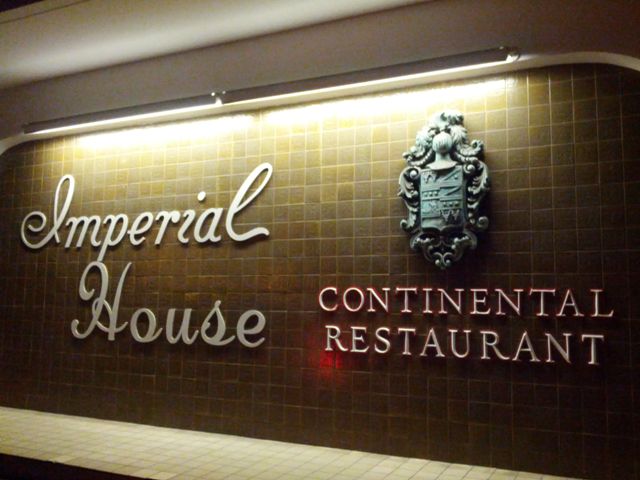 On entering the restaurant from their private driveway (I wish more restaurants had one…it seems more classy than entering from a sidewalk), you are greeted by original maître d' Felix Galindo, 'the man who rolls his R's', who escorts you past the medieval armor in a glass case into the beautiful dining room of red booths and high-backed chairs, tables with starched white linen tablecloths, chandeliers, wood walls with framed paintings, and Olde English style windows overlooking Sixth Avenue and the park.
The menu is classic Continental, including French and American specialties such as mock turtle soup à l'anglaise au sherry, filet mignon Oscar, roast rack of lamb jardinière, chateaubriand bouquetiere for two, and steak Diane, which is prepared tableside. Also prepared tableside are flambé dishes like spinach salad flambé, bananas flambé, cherries jubilee, and café diablo for two. Steak and seafood entrées round out the menu. You might start with an appetizer such as escargot bourguignonne or oysters Rockefeller.
We had too much Mexican food for lunch (which is always great in San Diego, by the way) so we didn't have room for main dishes, but instead opted for appetizers, salads, and dessert. We had both the spinach salad flambé and the Ceasar salad, prepared tableside.
For dessert we had bananas flambé (bananas Foster) with dark rum, brown sugar, butter, banana liqueur, cinnamon, and some 151 for pyrotechnics. Served over vanilla ice cream of course. Delicious!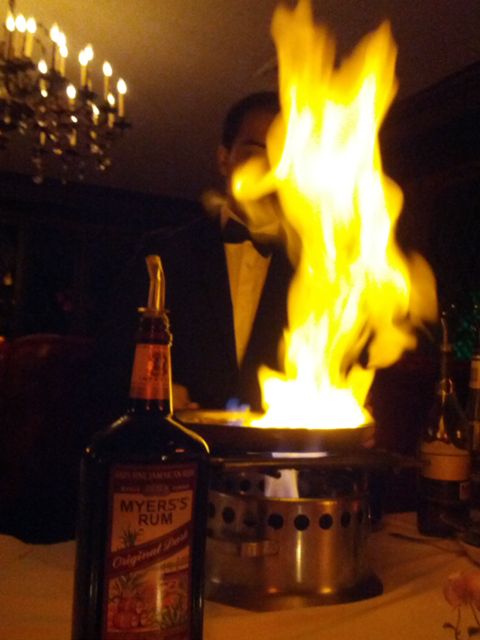 The entire meal experience was lovely, with some pop vocal classics playing softly in the restaurant (Dino, Sinatra, etc.). However, I would ask for a table in the back if entertainment is in progress in the bar because in the front of the dining room it may be possible to hear noise from the bar. The service was perfect, with the waiters dressed in black jackets and bow ties (as seen in the photo). There are dinner specials nightly through the week, such as prime rib on Friday and Saturday, as well as a swell $60 3-course dinner for two including a bottle of wine.
There is a happy hour in the bar with free hot food on Tuesday through Saturday. On Thursdays through Saturdays there is a popular piano player (Rick Lyon) performing classic rock songs to a synthesized backing track, and they serve food in the bar late on Fridays and Saturdays (10pm-12am). They also have a popular dinner theater called Mystery Cafe, which is performed in a room behind the bar (not in the main dining room).
Imperial House
505 Kalmia Street, San Diego, CA 92101
Phone: (619) 234-3525
Open 4:00pm-10:00pm Tuesday thru Thursday, 4:00pm-1:30am Friday and Saturday
Dinner hours are limited so call first (I assume they are approx. 5pm-10pm Tue-Sat).