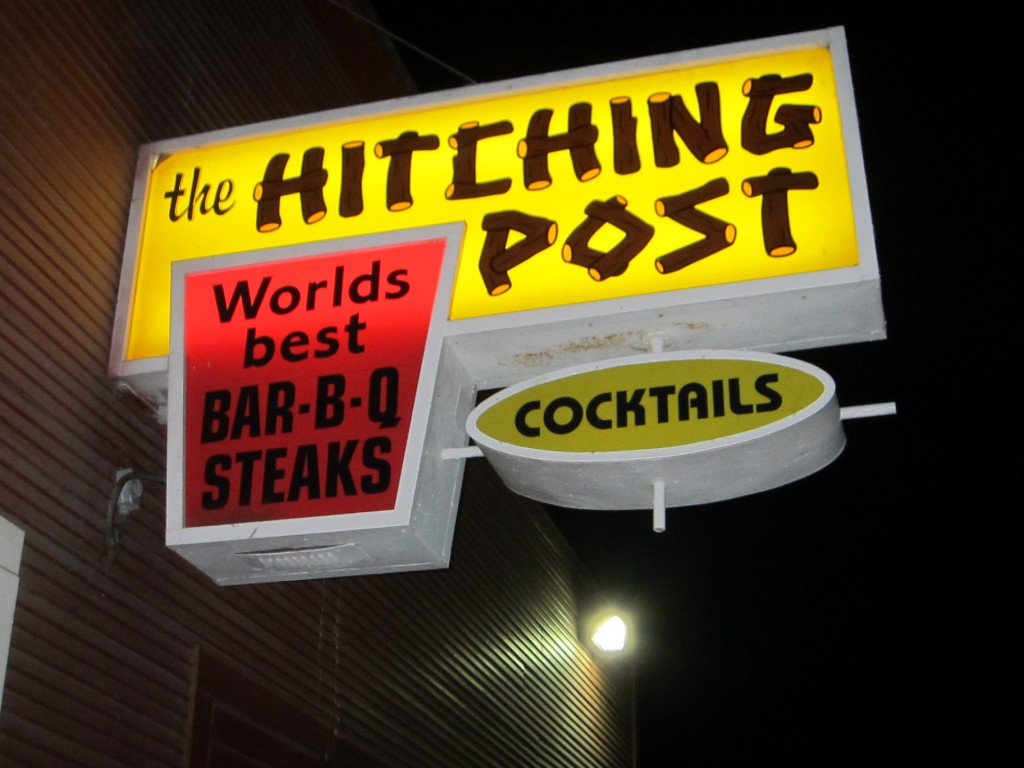 The Hitching Post in Casmalia is the last stop on our tour of historic Santa Maria style barbecue restaurants. (I previously covered Jocko's in Nipomo and the Far Western Tavern in Guadalupe, which is due to move to a new location soon ). Around the turn of the century Casmalia was a thriving town of 1500 people, mostly ranchers and oil field workers and their families. The railroad ran through town to a terminal on the coast called Port Petrol, and the Casmalia Hotel was the center of town activity. In 1944, after the railroad line was closed, the owners of the hotel demolished the hotel rooms, and reopened the old Italian restaurant as a steakhouse called the Hitching Post. In 1952 the Ostini brothers, Frank and Victor, bought it and it's still in the same family to this day.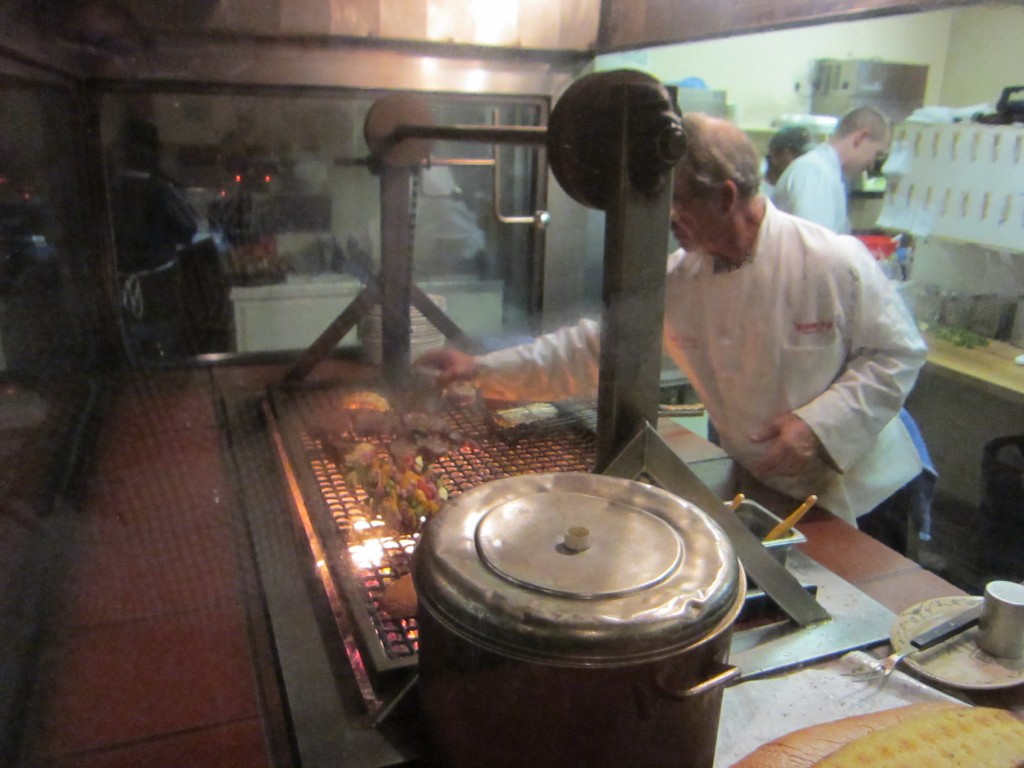 The interior at the Hitching Post is nothing fancy. It's basically a large room with some western art, artifacts, and old photos on the walls (there was a fire in 1988 so everything inside was redone not too long ago). But the thing that sets it apart from other barbecue joints in the Santa Maria area is its indoor oak pit under glass (fired with local red oak of course).
Dinners are pretty expensive at the Hitching Post but they do come with relish tray, shrimp cocktail or fruit cocktail, salad, potato or grilled vegetables, garlic bread, coffee or tea, and ice cream. I was surprised to find that pinquito beans and salsa are not served with the steaks, there was no tri tip on the menu, and the steaks were not covered with dry rub before cooking. So it seems that the Hitching Post is not exactly a Santa Maria style barbecue place in the strict sense, though they do cook the steaks over local oak. However, the Hitching Post opened before Jocko's or the Far Western Tavern, so perhaps they have always been a classic steakhouse and have never changed their menu (instead of a place serving traditional Santa Maria style cookout meat on a skewer with the accompanying dishes). Who really cares anyway, because the steaks are good! My 22 oz. T-bone (aka porterhouse) was perfectly cooked and very tender and juicy. A great steak – a New York and filet steak in one – and worth it at $44 (with all the sides). They also offer local favorite top sirloin, as well as ribeye, New York and filet (in two or three sizes each). After two steaks in two days I ordered the grilled veggies as my side, but the restaurant claims the Los Angeles Times said their French fries are the best in Southern California, so you may want to get some with your steak.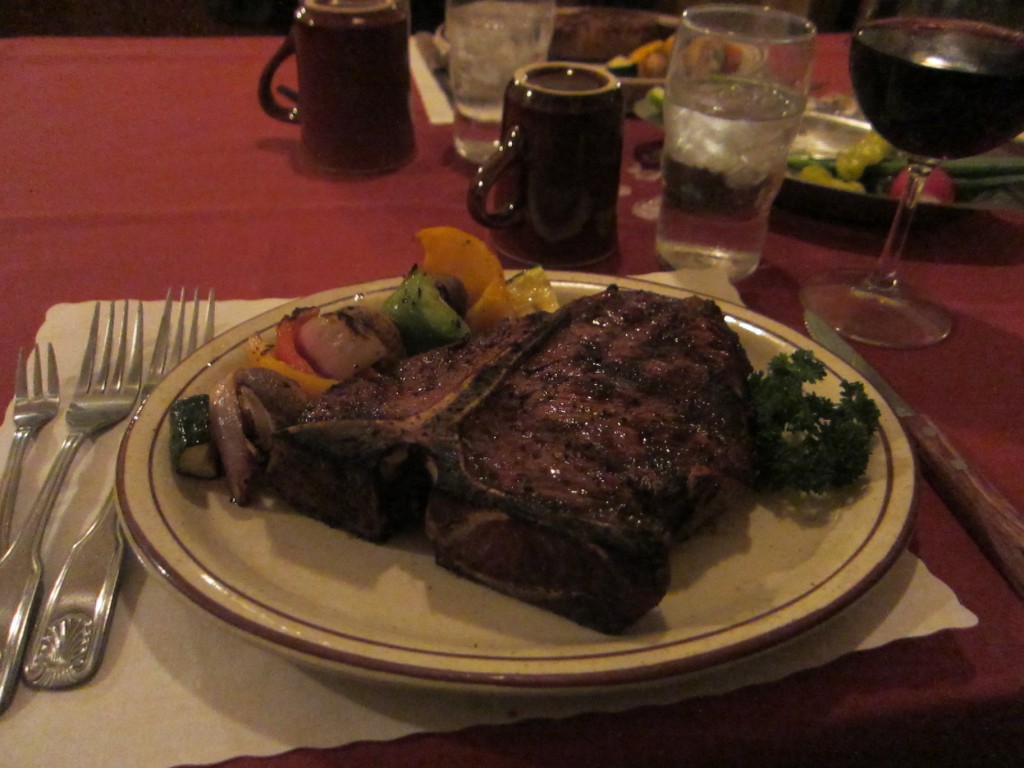 There is another Hitching Post location in Buellton, which opened in 1986. Easier to get to from U.S. Highway 101 than the Casmalia location, but not as charming.
The Hitching Post
3325 Point Sal Rd  Casmalia, CA 93429
(805) 937-6151
Open Mon-Sat 4:30pm-9:30pm; Sun 4pm-9pm

406 East Highway 246  Buellton, CA 93427
(805) 688-0676
Open daily 4pm-9:30pm; dinners served starting at 5pm daily