For those who don't have family nearby to visit for Thanksgiving dinner, Le Continental hereby presents some suggestions for dinner on Thanksgiving in the Bay Area. Note: there are probably many newer restaurants that are offering Thanksgiving dinner. The focus of this blog is such that we will only suggest older, classic restaurants.
Most hofbrau style restaurants have turkey dinner on the menu. By hofbrau I'm referring to the Bay Area meaning of the term: a cafeteria, where you order from a food line and take your tray of food to a table (not the German term Hofbräu, which usually refers to a brewery that serves food). Usually there are waiters to take drink orders.
One of the oldest hofbraus in the Bay Area, and one of my favorites, is Lefty O'Doul's, named after a San Francisco native pro baseball player, which opened in 1958. I'm not a fan of sports bars in general (too many TVs and beer posters for my liking), but this one has much historic charm, from its wood interior and tables to its many photos and memorabilia of local sports legends of the past. Nothing is decorated in a tacky way like many other sports bars. The food is pretty good and the drinks are strong. My favorite meal there is the house made corned beef hash for breakfast (with a bloody Mary of course). It's a large place so it should be able to accommodate customers at any time of day.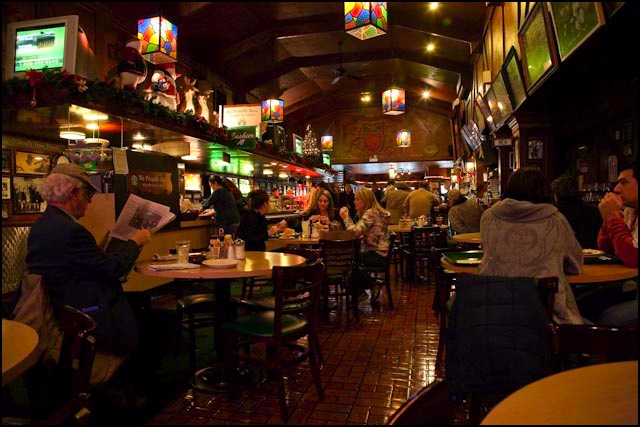 Another historic hofbrau is Tommy's Joynt, which opened in 1947 on Highway 101 in the heart of San Francisco. Cluttered with bric-à-brac and signs, much of it very old, it is a charming bit of old San Francisco with a Victorian theme. The food is good and very inexpensive. There is a huge beer selection, and the highballs are cheap but strong (Old Crow bourbon in the well is a plus).
There are other hofbraus in the Bay Area, but they all have more contemporary decor, are generally too brightly lit for my taste, and have mostly mediocre food, including the Harry's chain, the Roast Haus in San Rafael, Bogy's in S. San Francisco, the Europa in Orinda, and Oak's Corner in Emeryville. One hofbrau that I would like to try is Chick-n-Coop in San Francisco's Mission neighborhood, but I phoned and it will be closed on Thanksgiving Day. Finally, there is Brennan's in Berkeley, an old favorite that had pretty good food, but it moved to a new location a couple of years ago and I have not wanted to check it out. Sam's Hofbrau in Oakland R.I.P. (not really, it was actually pretty disgusting).
For something much, much fancier you could do no wrong at Harris' Steakhouse, that is open and serving Thanksgiving dinner. (There are probably booked already, but there's always next year.) Harris' only dates back to 1984 (not insignificant in restaurant years!), but it has a classic feel (it replaced the venerable Grisson's) and serves the best dry-aged prime steaks in the Bay Area, in my not-so-humble opinion. It is not affiliated with the Harris Ranch lower-end steakhouse and brand. Make sure you enjoy a Manhattan or Martini, which is served with its own little pitcher in a barrel of ice. And don't forget to peek  at the steaks aging through the window from the sidewalk.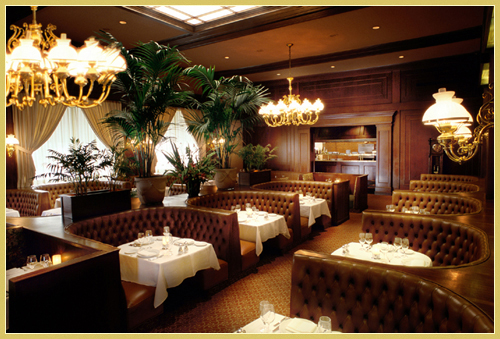 Another good choice is the House of Prime Rib. I like what's left of the vintage decor (though much of it has been redecorated) and the food is pretty good. But I've had some problems with the service in the past, and on some occasions I've been unhappy with the table I was seated at and the noisy atmosphere. It is also always incredibly busy (which I can't really understand). But if you can snag a booth in the front room it is an experience you should have at least once. They carve the meat and serve from beautiful metal carts, which originated at Lawry's The Prime Rib in Los Angeles. They also stole the spinning salad bowl from Lawry's.
As far as the East Bay (where I live) goes, I don't know of any classic or historic restaurants that will be open for Thanksgiving dinner, but if you do know of one please mention it in the comments.
Thanksgiving Day Hours, 2012

Lefty O'Doul's – 7am – 12 midnight
333 Geary Street  San Francisco, CA 94102
(415) 982-8900

Tommy's Joynt – 10am – 12 midnight
1101 Geary Boulevard  San Francisco, CA 94109
(415) 775-4216

Harris' – 3:30pm – 8:30pm
2100 Van Ness Avenue  San Francisco, CA 94109
(415) 673-1888

House of Prime Rib – call (I couldn't get through as the line was busy)
1906 Van Ness Avenue  San Francisco, CA 94109
(415) 885-4605