Cafeterias used to be everywhere in this country. (For those who aren't familiar with the term, they are restaurants that serve you food from a buffet in a line formation, but unlike a buffet, such as those popular in Las Vegas and around the country, you don't primarily serve yourself). Nowadays they are few and far between. In California in the late 1940s and the 1950s they evolved into a popular style called a hofbrau (from the German word for a royal brewery) probably because they usually served beer as well as hearty food.
The earliest hofbrau that is still open is Tommy's Joynt in San Francisco. Still wonderfully original and filled with clutter it serves good, filling food at low prices (perhaps the best value in the city). In 1954 the first Harry's Hof Brau opened in Redwood City, now a small chain of newer hofbraus owned by Harry's son Larry Kramer (the original Redwood City location is still open but has been remodeled). Famous ball player, coach, and manager Francis 'Lefty' O'Doul opened his eponymous hofbrau / sports bar in 1958 in San Francisco (still open and it sill has some charm but every time I go there for some tasty chow it seems there are more TVs than before). And across the bay in Berkeley Brennan's opened its Irish style hofbrau in 1959 (still owned by the same family, it moved in 2008 into the historic 1913 Southern Pacific Railroad Station next door to the original location, but it's also filled with more TVs than I can stand).
In 1955 Sam Gordon opened his first Hof Brau in Sacramento at 17th and J streets (it closed in 1993 and became Hamburger Mary's, then Hamburger Patties, and still has the original chef neon sign from Sam's Hof Brau).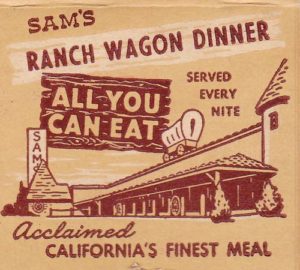 In 1956 he opened Sam's Original Ranch Wagon at 817 Broadway with a Western theme in the two dining rooms, the Bonanza Room and the Ranch Wagon Room, and the cocktail lounge named the Gold Discovery Room. The sign for the restaurant was an eye grabber!
In 1957 Sam Gordon opened another Hof Brau in downtown Sacramento at 815 L St. in a Bavarian theme. Then in 1960 he opened his fancier restaurant, Sam's Rancho Villa, at 2380 Fair Oaks Blvd., which featured three dining rooms, the Candlelight, the Continental, and the Venetian, and two cocktail lounges, the Capri and the Eden Roc (wow, I would have loved to have seen this place!). Although it was swanky, they still served food cafeteria style.
In 1962 he opened Sam's Plaza Hof Brau in the Plaza Shopping Center at 2500 Watt Ave., the only Sam's Hof Brau still open in Northern California. The restaurant is mostly original, except for a few TVs by the bar. At the front is the food line with the servers and a big pickle slice decanter. On the right side of the large main dining room is the long bar with a large oil painting of the Golden Spike ceremony when the Transcontinental Railroad was completed in 1869.
The main dining room is decorated Victorian style with wood-paneled walls filled with historic photos of Sacramento, brass railings, red flocked wallpaper, oil paintings, and chandeliers and ceiling fans (that are much too bright, in my opinion). The middle of the room has wooden booths and the side opposite the bar has tables on a raised area (see photo).
In back is another dining room with cozy wooden booths along the sides of the room with tables in the middle. In the far back is a banquet room. It's a huge place as you can see in this outside side view.
The menu at Sam's is hearty and filling, perhaps somewhat plain, but it's real comfort food. Roasted, carved meats are the specialty, served in "sam'wiches" or as entrees with choice of two sides. Meats include roast beef, pastrami, corned beef, turkey, prime rib, and tri tip. Desserts are made fresh daily.
Later in 1962 Sam Gordon opened a circus-themed Googie restaurant called Sam's Big Top at 16th and K St. in Sacramento. It was designed by Armet and Davis, architects who designed many Googie restaurants. Several of their restaurants are in the Los Angeles area: Pann's Coffee Shop (open), Johnie's (closed but standing), Mel's in Sherman Oaks (open; formerly Kerry's), and Norms on La Cienega (open). Sam's Big Top at 16th and K is gone but the second Sam's Big Top at 2721 El Camino (opened around 1966-67) still stands and is now a Country Waffles restaurant. In 1963 Sam Gordon opened Sam's Town entertainment complex on US highway 50 (closed in 2000). Sam's Hof Brau expanded to Auburn, Oakland, Portland, and Los Angeles (all closed except LA's, which still operates as Sam's Hof Brau but as an adult club with topless dancers!). The Denny's Coffee Shop chain took over most of the Sam's locations in the 1970s and Sam Gordon passed away in 1998. But the Sam's Hof Brau on Watt Ave. hung in there, leased from Denny's from 1991-2007 as Plaza Hof Brau, then renamed back to Sam's Hof Brau in 2009 after it was purchased by the Hof Brau Restaurant Group. Thank goodness we still can visit this Sam's, pretty much all that remains of Sam Gordon's once-mighty hofbrau empire.
Sam's Hof Brau
2500 Watt Ave, Sacramento, CA 95821
(916) 482-2175
Open Sun-Wed 10:30am-9pm, Thu-Sat 10:30am-10pm