UPDATE: Joe's of Westlake was purchased by the owners of Original Joe's in San Francisco and reopened in February 2016 after an extensive two year renovation / remodel. The post that follows was published in January of 2014 soon after the sale of the restaurant so it describes the old restaurant before the Original Joe's family (the Duggans) took it over.
Previously on Le Continental we toured three of the remaining five "Joe's" restaurants in the Bay Area, Original Joe's in San Francisco, Original Joe's in San Jose, and Marin Joe's in Marin County. Today we are going to visit Joe's of Westlake, an old favorite I used to visit often starting in the late 90s as some friends lived nearby. (I've dined there less often in the last ten years – after a couple of experiences with mediocre food and bad service – so I waited to post about it until I could revisit and get a more current perspective).
First a bit of news. You may have already heard that Joe's of Westlake was recently purchased by the Duggan family, owners of Original Joe's in San Francisco, and it will be closing later this month for an extensive renovation that may take as long as a year. Joe's of Westlake, which was built in 1956 in the modern planned community of Westlake, is a wonderful building frozen in the mid-century, with most of it's original modern architecture intact, inside and out. So, understandably, people are worried about the building and the restaurant, which is still very popular with local residents, many of whom have been eating and drinking there for over 50 years.
Yet another classic restaurant closure (of many in the last year) is surely bad news, right? Actually, Le Continental thinks it is great news. Please let me explain why:
The owner, Melinda Scatena, daughter of the original owner Bruno Scatena, decided to sell the restaurant after recent health problems to "focus on her health" without the pressures of running a restaurant. She started working at the restaurant at 14 years old – she surely deserves a break!
In almost every case when a 50+ year-old restaurant is sold on a large lot (about one square block) in a prime commercial location it is either demolished for a Walgreens, Starbucks, or other chain store, or vastly remodeled into a new restaurant (usually a chain) unrecognizable from its original form. There typically aren't many restaurant investors besides the large chains that have the capital and are willing to take a chance on such a risky venture. What has happened to Joe's of Westlake is a rare ocurrance!
The clientele of Joe's of Westlake reflects much of the neighborhood's demographics: older, long-term homeowners and renters who prefer classic American and Italian food. The problem is that most of Joe's customers are getting older, passing away, and there simply aren't many new customers to fill the void. There are a few people, such as myself, who appreciate Joe's for its time-warp dining, but we are not enough to keep such a large restaurant profitable. Also, there are not a lot of younger people in the area, probably due to a lack of affordable housing and because it's a suburban area some distance from the heart of San Francisco. So, not a lot of middle-to-upper-class urban professionals who make up most of the city's diners are flocking to Joe's of Westlake. Sure, some may come out of curiosity, but they generally don't like the food because it's old-fashioned and sometimes pretty bland (check out all the negative reviews on the admittedly flawed Yelp). Yet the 'new' Original Joe's has not had a problem attracting new customers – it's almost always crowded. I predict the "new" Westlake Joe's will also be popular and develop a new customer base the old restaurant needed.
The Duggan family have been owners in Original Joe's in San Francisco since its founding in 1937 (in 1983 Marie Duggan took over ownership of Original Joe's from her father, founder Tony Rodin), so they are the perfect owners of Joe's of Westlake. The restaurant will remain a Joe's, with the signature Joe's elements of an exhibition kitchen and its traditional menu of Italian food, steaks, and chops. That, to me, is key! Joe's is a historical landmark of the Westlake neighborhood, and it will remain so.
The Duggans did a wonderful job on the new Original Joe's in North Beach (since the original was damaged in a fire in 2007), incorporating several items from the old OJs in the new space, which has a classic feel, thanks to architect & designer Anthony Fish, who has also been hired as the architect for the renovation of Joe's of Westlake. The family has stated that they are going to do an "architectural restoration" with "great respect" of the building's architecture and the restaurant's history. Le Continental has also heard that a historic preservation specialist will be a consultant on the renovation.
We don't often give negative reviews of restaurants on Le Continental, but I have had a few experiences at Joe's of Westlake when I thought the food and service needed improvement. At first when i experienced this in the 1990s I thought I just ordered the wrong thing or our waiter had a bad day, but it has happened on more than one occasion in the last 15 years since I've been eating there. So, I am looking forward to having the same excellent food and service at Joe's of Westlake that I have experienced when dining at Original Joe's (both the old one and the new one in North Beach).
For all these reasons Le Continental believes it is a very positive change for old favorite Joe's of Westlake. I am sad for the staff, many of whom have worked at Joe's for many years, but I can't even imagine what was the likely alternative: destruction or vast remodeling. I'm guessing some things me and my friends like may not stay because not everyone has the same taste (bad clown paintings and plastic grapes aren't appreciated by everyone). But personally I would rather have the trade off of better food and service than worry about every detail. The design of the building is the most important thing, and I'm confident it will be restored and even improved from its somewhat worn, partly modified appearance.
A Brief History
Way back in 1939 Bruno Scatena, Tony Rodin, owner of Original Joe's, and Adolph Della Santina opened Original Joe's II in the Marina district of San Francisco. In 1953 Adolph left to open Marin Joe's. Three years later Bruno Scatena opened Joe's of Westlake in the newly planned community of Westlake, developed by Henry Doelger. The principal designer of the modern post & beam restaurant (and the interiors of many of the houses built in Westlake) was Chester Dolphin.
Tour The Restaurant
The entrance of the restaurant is beneath a marvelous ovoid porte-cochere next to the parking lot (there is an overflow parking lot up the hill).
The bar, the Chianti Room, is on your left after you enter, and has featured such entertainers in the past as Louie Prima & Keely Smith and Cal Tjader. Nowadays there are some sports items among the wine themed art, and there remains a marvelous modern black fireplace.
Main Dining Room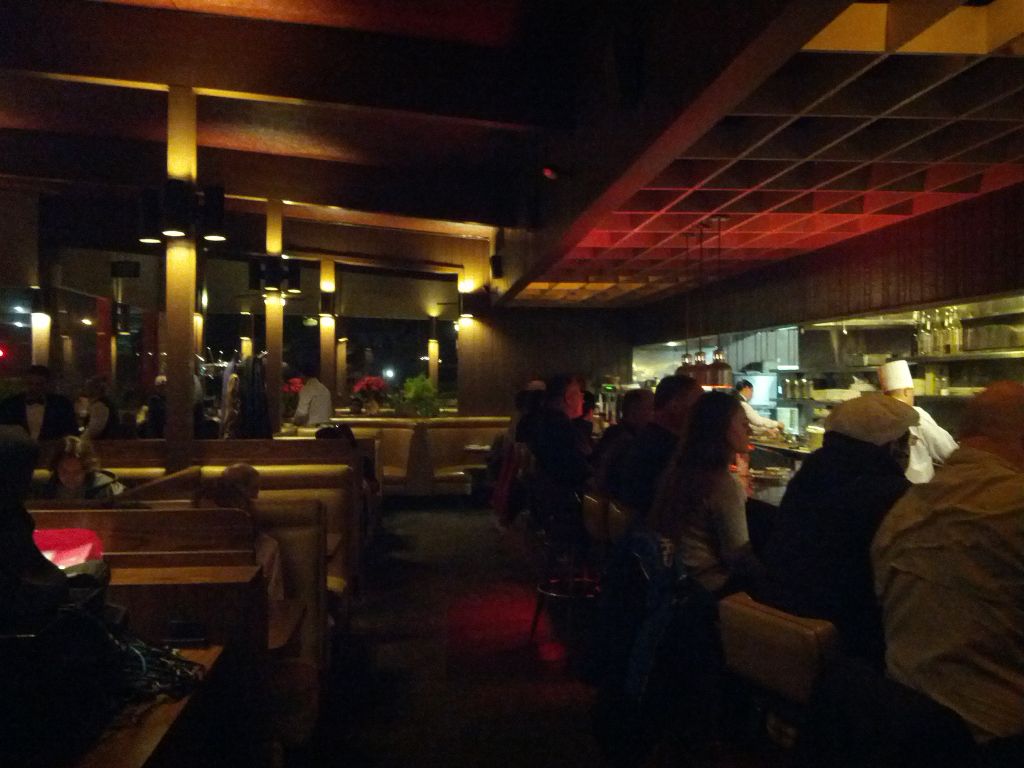 The main dining room is a spectacular space with a high open beamed ceiling of cork tiles painted in a gloss dark red (I hope the new owners return it to a flat dark color, which would look more appropriate), the signature exhibition kitchen and counter, and the tables, which are all booths, just like at every other Joe's including the original one. In fact the layout is quite similar to Marin Joe's, with the large windows opposite the kitchen. San Jose's layout is also similar, but reversed. Everything is still almost the same as in the vintage photo below, including the gold vinyl upholstery and wood grain Formica tops. The main difference is the lamps have been changed to cylindrical ones.
There are large plate-glass windows with views of the major streets in back of the restaurant. They don't show in my interior pics, but they are visible in this exterior night shot:
There is also a large banquet room off the lobby called the Cascade Room, which should be avoided at all costs. It's bland and ugly. They may try to seat you in there if it's busy, which is all the time lately since its closure was announced. You're better off going home than sitting in there.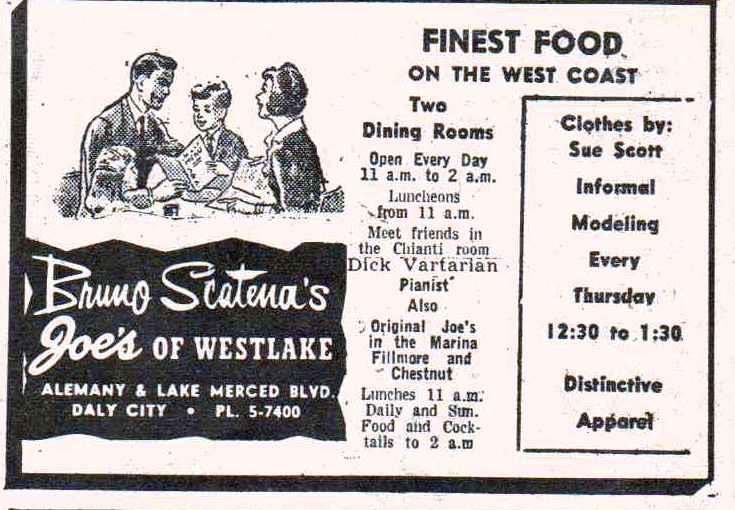 The menu is similar to those at all the Joe's – an extensive choice of Italian-American food, including the Joe's Special, charbroiled burgers, steaks, and chops, ravioli or spaghetti as side dishes, and daily specials. Le Continental recommends the Steak a la Bruno, a tender top sirloin (not to be confused with the tough sirloin sold in the supermarket), with ravioli on the side please, and the chicken parmigiana.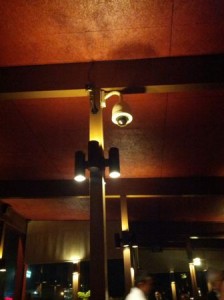 A gripe: Last Monday night I took this photo in the main dining room at Joe's of Westlake. Right above us was a security camera! Was this placed there to watch the customers so they don't steal sugar? Or was it placed there to watch staff so they don't make mistakes? Whatever the reasons, none justifies this kind of invasion of privacy in a restaurant. I don't want someone watching me with a camera while I'm eating out. Bad move, Joe's, and any restaurant owner that may be reading this: Le Continental does not approve of this and will not recommend restaurants that spy on their customers or staff!
If you still want to visit Joe's of Westlake before it closes for renovation you better go soon. It is due to close on January 26th. I went yesterday (on a Monday), arriving at 5:45pm and put my name on the waiting list (they no longer take reservations), specifying the main dining room. After about an hour they called me but said for the "Cascade Room", which I refused so there was an even longer wait. They open daily at 11:00am for lunch (some items on the dinner menu are not on the lunch menu) and I expect they will be busy all day and night until the closing. From my visit last night it appeared to be about half old regulars and half the curious who wanted to visit the place for the first time after hearing it will close.
Joe's of Westlake
11 Glenwood Ave, Daly City, CA 94015
(650) 755-7400
Open Sun-Th 11:00am – 11:00pm, Fir-Sat 11:00am – 12:00am