Dear readers, by now I'm sure you've noticed Le Continental's banner image and may be wondering if you can visit that restaurant. Well, the answer is no, and yes! Sadly, the original Original Joe's was lost to a fire in 2007, but the new version of the restaurant is a wonderful reborn Original Joe's, a great classic restaurant that is more a continuation of the original than a new restaurant. Previously I posted a little about the new Original Joe's opening, but now I want to explore the iconic restaurant's history in the Bay Area, show what the old one was like, and describe in more detail the new Original Joe's, since I have now visited it several times.
First, a bit of history. There are many restaurants called Joe's in the Bay Area that share certain characteristics. Which one was the first? And are they all related? Our story starts with New Joe's, which was a small 13-stool lunch counter that opened in 1934 on Broadway in North Beach (and closed in 1970). New Joe's may have been named to distinguish it from a previous popular restaurant called Joe's Lunch, but facts are scarce. In 1937 Ante "Tony" Rodin (a Croatian immigrant) and his partner, who were both employees at New Joe's, left to open another small lunch counter (with 14-stools) downtown called Original Joe's. Now, this is where the lineage to the current Original Joe's begins, because Mr. Rodin's daughter Marie Duggan now runs Original Joe's (she joined the business in 1983) along with her son and daughter. Ante "Tony" Rodin passed away at 93 in 2006.
Before we continue with the history, you may wonder what was the origin of the name Joe's as a restaurant name in the Bay Area? Was Original Joe's (or New Joe's) named after a specific person? In my opinion the answer is no. During the Great Depression (1930s) the phrase "Eat at Joe's", often seen in films and cartoons (see at 6:20) on a sign board (a sign board is carried by someone, being slung over their shoulders with straps), was a common expression. Joe's was the "hypothetical everyman's" small café or diner, often with a lunch counter, that was based on real restaurants named Joe's (such as Joe's Stone Crab in Miami Beach, opened in 1913 as a small lunch counter). So, although it may have been named after a real Joe, I believe New Joe's and Original Joe's were simply named after the fictional "average Joe".
In 1956 one of the original partners of Original Joe's, Louis J. Rocca, opened an Original Joe's in San Jose with his son and two more partners. The Original Joe's in San Jose is still operated by the Rocca family. Over time some of the other partners in Original Joe's started their own restaurants, including Marin Joe's, San Rafael Joe's, Westlake Joe's, and Little Joe's, which was the first one I visited when it was in North Beach – it has moved around since then and closed in 2012. There was also an Original Joe's II at one time in the Marina neighborhood. As far as I know, none of the Joe's are connected by ownership since Louis J. Rocca sold his share of Original Joe's San Francisco in 1983.
Although they are not related by ownership, all the Joe's share similar characteristics, which collectively have been labeled the Joe's Style. One common element is an exhibition kitchen, or a kitchen that is open to the dining room, usually with counter seating that harkens back to the first New Joe's lunch counter. Another similarity is the menu in general, which consists of a combination of Italian and American dishes, with charbroiled steaks and chops also prominent. In addition, there are a few specific menu items that are common to all the Joe's:
Joe's Special (a combination of ground beef, eggs, spinach, and onions cooked in a skillet)
a large hamburger formed by hand, charbroiled, and served on a sourdough roll
Italian side dishes available with your main dish, usually ravioli or spaghetti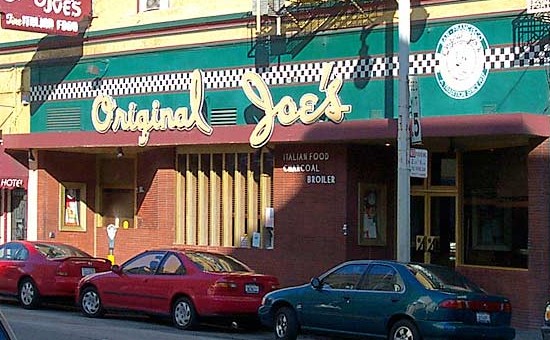 In the 1950's Original Joe's was extensively remodeled, and it retained the 1950s appearance until it closed in 2007. As you can see in the previous photo from before the fire not much has changed since the postcard photo at the top of this post was taken in the 1950s. On entering the doors you would see the long exhibition kitchen and counter – a far cry from the original 14-seat counter!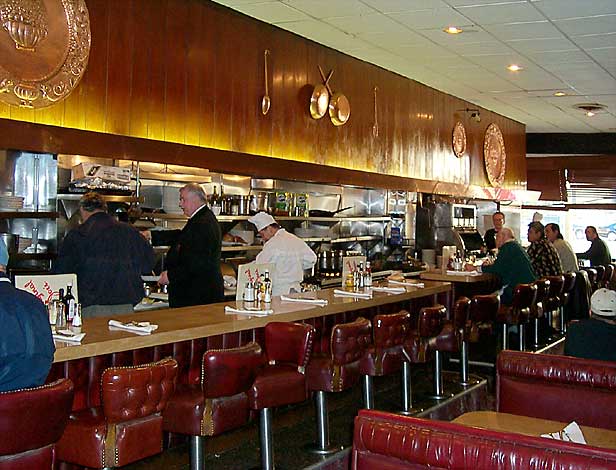 The main dining room was all red vinyl banquettes, separated from the counter area by a room divider.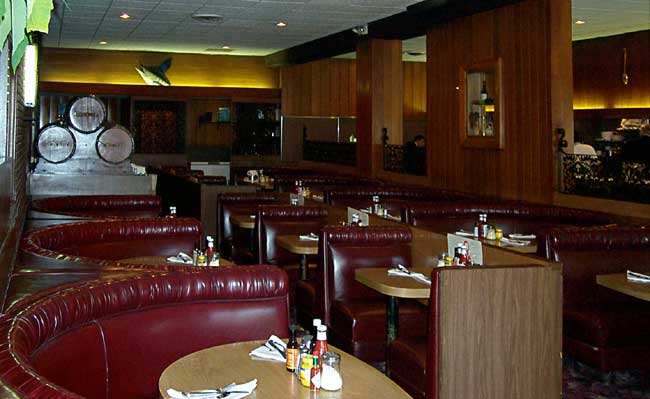 To the left past the decorative wine barrels you entered the amazing bar with its enameled copper mermaid reliefs.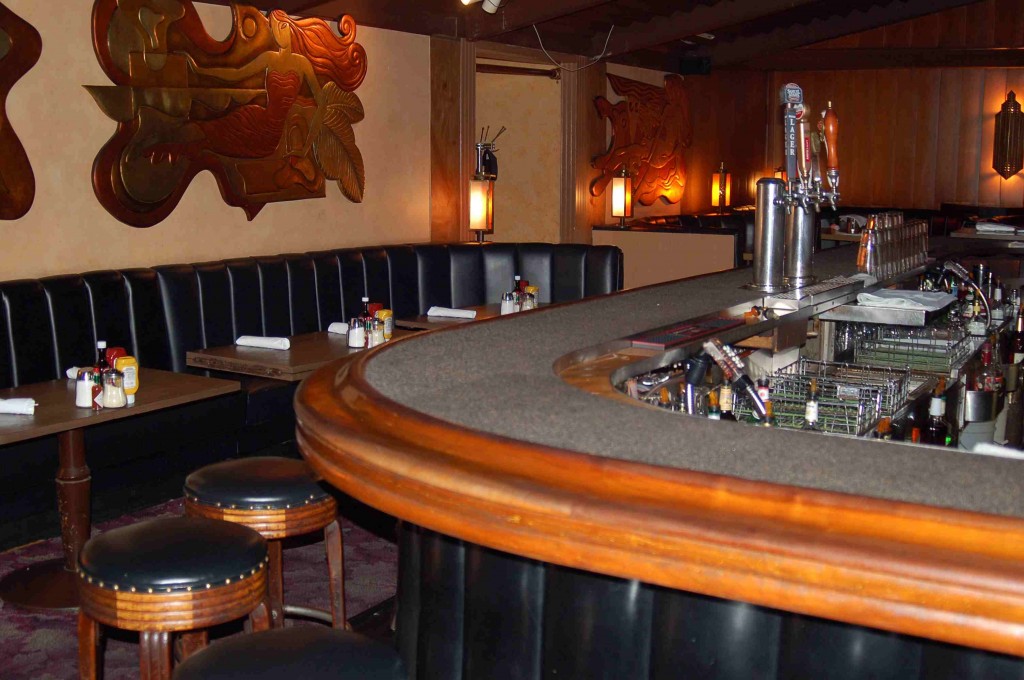 After the fire in 2007 there was a long wait as the city wondered if the restaurant would ever reopen, or if it would move. Finally in 2011, after much deliberation among the Duggan family over whether to reopen or relocate, it was announced that they planned to move Original Joe's in a historic restaurant space in North Beach that had previously housed both Joe DiMaggio's and, even more significantly, Fior D'Italia, a restaurant that started in 1886 and was located in the new Original Joe's space for over 50 years (and sadly closed in 2012). The new Original Joe's, to my surprise and excitement, incorporated many elements from the old Original Joe's, including the bar stools, counter seats, wood paneling, door handles, signage, and the enameled copper mermaid wall hangings.
Since it opened I have drank and dined many times at the new Original Joe's and am happy to say that it is true to the history and character of the old restaurant, from the atmosphere to the service to the food. It seems to me that the food is even better! All my favorites are on the menu (which even looks vintage) – the lamb chops, New York strip, Joe's Special, hamburger sandwich – and I've discovered many new favorites – sauteed sweet breads, hamburger steak smothered in grilled onions and mushrooms, the pasta dishes, and the house made spumoni, the best I've ever had!
I love how the new restaurant is split level, which gives it a swanky 1950s feel. I love the wall of framed historic photos and memorabilia. I also love it that every table in the restaurant is a tufted vinyl banquette, just like in the old one. I love the brick fireplace in the lounge. Even the bar is like in the old location, with a tufted vinyl front and the original bar stools – but with better cocktails! They have a great $6 house martini (Gordon's gin) and house Manhattan (Old Crow).
Original Joe's
601 Union St, San Francisco, CA 94133
(415) 775-4877
Open Mon-Fri 11:00am-10:00pm, Sat-Sun 9:00am-10:00pm