We've covered a lot of Basque restaurants here on Le Continental, being a big fan of the type of restaurant, the food, and the people. On good ol' Route 66 east of Los Angeles I happened upon another one last summer when I spotted the sign "Glendora Continental Restaurant", which of course caught my eye.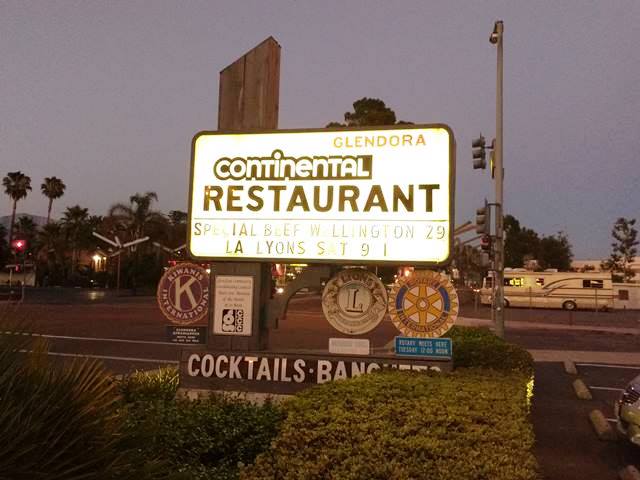 The restaurant was opened in 1980 by Jean and Elisabeth Sabarots, who came from the Basque Country of Europe. Jean Saborots (1936-2012) came from the town of Osses. He emigrated to the U.S. at 19 years old to work as a sheepherder, later working in dairies, and eventually becoming a bartender. In 1964 he returned to the Basque Country and met Elisabeth Larralde (1937-2005) from the town of Lecumberri, who was working in a hotel. They returned to the U.S. together, got married in 1966, and managed The Little Inn Smorgasbord in Covina (later owning it) until they opened Glendora Continental.
The bar and lounge in Glendora Continental has entertainment most nights of the week – Bingo on Mondays, karaoke on Tuesdays, live piano on first Thursdays, and live music on Fridays and Saturdays.
But my visit was for dinner so I entered through the Continental entrance – of course!
The dining room has booths of tufted brown vinyl, classy chandeliers, and plaques of the Lauburu, the Basque Country symbol.
The Menu
The restaurant's menu offers the complete Basque "set up" for $28 with your choice of the daily special entrees. This comes with pickled tongue, house made soup and salad, a stuffed puff pastry (optional), sliced ham, the main course with potato and vegetable, great homemade bread, cheese, fruit and dessert, plus wine! A feast! Of course I got the full set up and had a hard time eating it all. If you don't want that much food you can get one of many available entrees of chicken, fish, lamb, beef or pasta, which come with soup and salad or pickled tongue, potato or rice, vegetable, and bread. Entrees range in price from $12 to $48 and they have early bird specials and daily specials at $14.
I wasn't sure how to eat the cured meat (which I believe was Jambon de Bayonne) served with hunks of butter. Spread the butter on the ham and eat it rolled up, perhaps?
It was a pleasant surprise finding this restaurant! The food was very good but next time I'll bring some friends to share with because it was a lot of food for one (or I'll just get a regular entree and not the set up)!
Glendora Continental
316 W Rte 66, Glendora, CA 91740
(626) 914-1834
Open M-Thu 11:00am-3:00pm, 5:00pm-9:00pm, Fri 11:00am-3:00pm, 5:00pm-10:00pm, Sat 11:00am–10:00pm, Sun 10:30pm-3:00pm with limited menu, bar open daily 11am-2am