Along the Soquel River in the village of Capitola near Santa Cruz there is one of the most unique restaurants in the United States, that has survived (in fact, it thrives) since 1947. My copy of the 1959-60 AAA Tour Book describes Shadowbrook as "enchanting", which is probably the most apt term to describe it in one word.

The original building on the site of the restaurant was a simple cabin that was used as a summer home in the 1920s. This was later enlarged into a house that was used as a tea room in the 1930s, which included a large stone fireplace, now a major feature in Shadowbrook's original dining room. The tea room had a boat that taxied guests along the river to and from a nearby beach. Sometime later the house was abandoned, but in the 1940s a fellow named Brad McDonald discovered it overgrown with brush and purchased it. In 1947 Brad and his partner Ed Phillippet opened Shadowbrook restaurant. Brad was the maitre'd and waiter, while Ed was the cook.
On the second floor is the bar, which is where the main entrance to the restaurant is today. In the early days the cocktail lounge included an impressive mid-century freeform bar with tuck & roll upholstery, a large rock wall and fireplace to the left, a modern beam and lattice open ceiling, rustic furniture and western lamps, a parquet dance floor, and a large antique cash register. Gorgeous!
Sometime in the 1950s the original dining room was enlarged with an extension that had large angled windows which allowed guests to dine with better views of the gardens and river.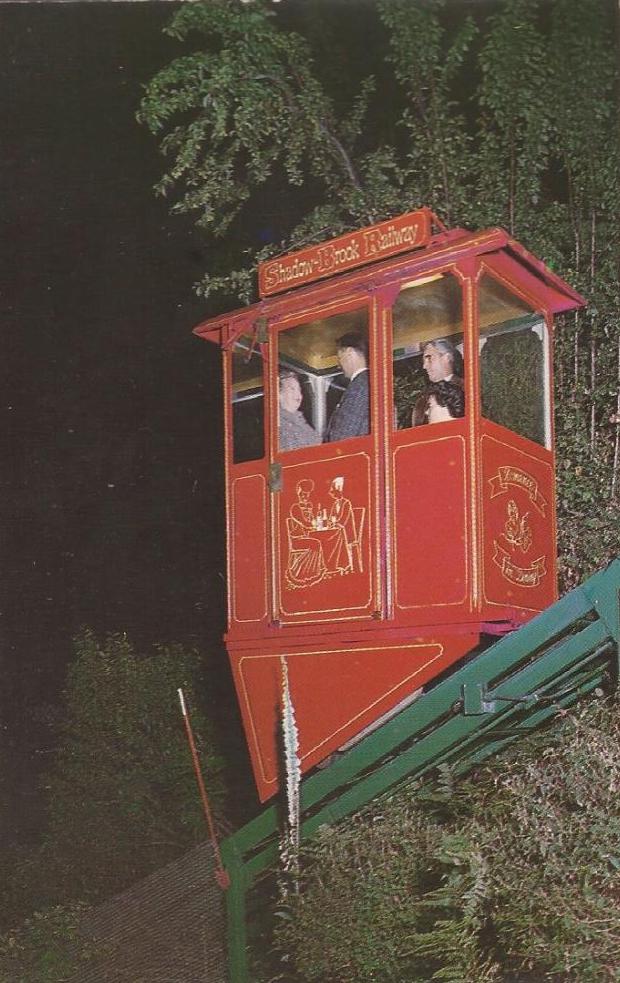 You may be wondering by now what the red phone booth is doing on the hillside next to the restaurant. In the 1950s a cable car was installed to carry guests from a parking lot above the restaurant! It is still in use and adds to the charm of a Shadowbrook visit. Note: it is not a funicular like Angel's Flight, which has two cars that act as counterweights. This works like San Francisco's cable cars, where the car grips a moving cable.
In the old days you could also arrive by boat!
In 1972 Shadowbrook was sold to the owners of the Crows Nest in Santa Cruz. Then in 1978 a manager of the restaurant Ted Burke acquired Shadowbrook with a partner who has since retired. Ted is the current owner. In the 1970s through the 1990s the restaurant was modified and expanded a lot. Some of the additions, though more modern than the original design, look good in my opinion. In particular, the circular brick patios on the hillside next to the restaurant look very nice. Many new rooms were added in this period, including the Garden Room (where I dined on my recent visit), the Redwood Room, and others. Some are used mainly for private functions but are also used on busy nights.
Also, some of the changes to the bar (now called the Rock Room) have a design reminiscent of some famous modern architects, such as William Cody's angular styles in Palm Springs. I like the huge beams that continue through to the outside and the greenhouse effect of the angled windows. The bar or Rock Room was modified a lot in 1997. It now has a fireplace, a wood burning pizza oven, a large marble-topped bar, and plenty of rocks and plants.
The menu at Shadowbrook is probably best described as Californian or New American cuisine. The menu changes daily, but usually there are several steak and meat dishes (prime rib is a specialty), plus many fish entrees. We started with the calamari in the bar and it was probably the best calamari I've ever had. Super fresh and very tender. Not at all chewy. Lightly seasoned & battered and served with two delicious sauces. As Le Continental has suggested in restaurant tips, always try the house specialties, so I was disappointed when the waiter announced they were out of prime rib. We asked the waiter what he recommended, which is usually a good 'plan B' if you aren't sure what to order. He replied the lamb and the filet mignon. I was in the mood for lamb, so I ordered that. It was a sliced loin of lamb and was a little chewy and not very tender. I would recommend sticking with a steak or perhaps some seafood since the calamari was so good. Another plus: the restaurant makes all its baked goods from scratch.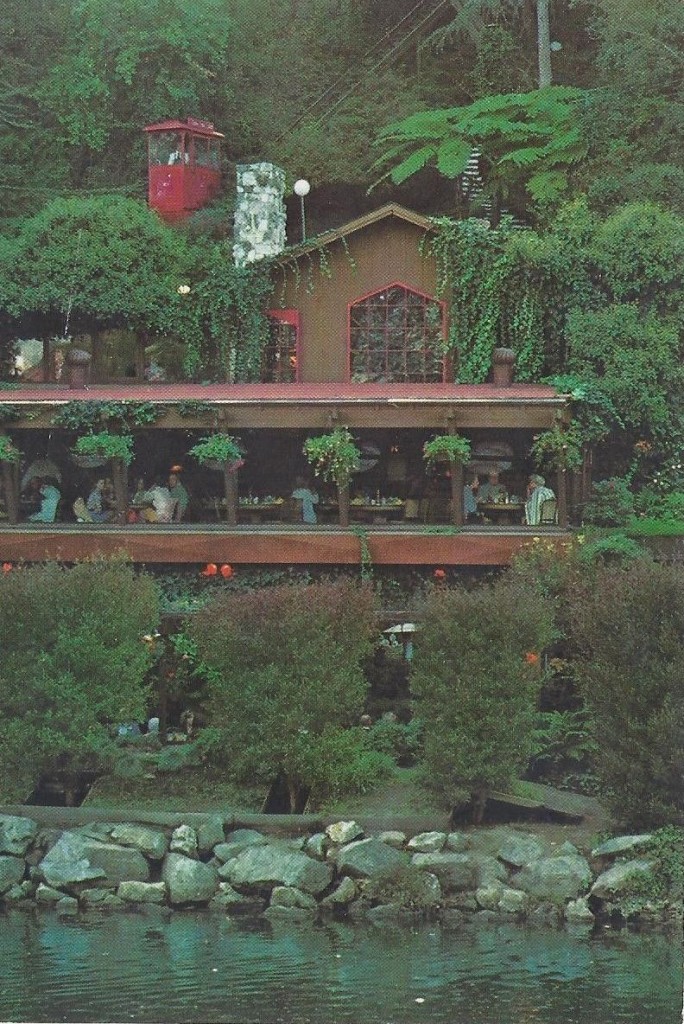 Shadowbrook is very popular so it can be crowded, especially on weekend nights. Reservations are a must on weekends. They are also very popular for weddings. I called to reserve a table on a Saturday a couple of weeks in advance and tried to request the original dining room but was told "we don't accept room preferences on reservations, but you will enjoy any of our tables". I must admit I found that policy not very accommodating for the restaurant business. At the Mai-Kai you can reserve a table in any room you wish. I know that, like myself, most of my readers seek out restaurants that are historic so they can have the time travel experience of dining in a historic dining room, not in a newly remodeled room or a new addition. Well, when we arrived an hour early so we could enjoy the bar for a while I asked the hostess of we could dine in the "original dining room". She replied that they were really busy but she would try. I told her that we are in no rush so we didn't mind waiting for a table in the historic room. After a half-hour or so the hostess called us and told us she didn't have a table in the original dining room because the tables in that room are for parties of six. So they sat us in the Garden Room, which was very nice (it was an add-on off the original dining room with mostly windows, like a greenhouse, with a large tree trunk that they built the room around) but not as desirable to me as the old dining room. Please pardon my gripe. I know this isn't a big complaint (and I'm not like some people on Yelp that give only one star for such a minor issue) but it is important to me where I sit when visiting a historic restaurant. I think that Shadowbrook should try to be more accommodating in this regard.
Don't let my minor complaint dissuade you from visiting Shadowbrook. It is an amazing place…and so unique! Just try to go on a weeknight if possible, and bring plenty of cash because it is expensive. Save time for a stroll through the gardens, which are beautifully landscaped and lighted. Tree ferns abound and water flows throughout the grounds and even into the Rock Room bar!
Shadowbrook
1750 Wharf Rd, Capitola, CA 95010
(831) 475-1511
Open for dinner Mon-Fri 5:00pm-8:45pm, Sat 4:30pm-9:45pm, Sun 4:30pm-8:45pm (what's up with the odd closing hour?)
The Rock Room lounge is open longer (check the website) and has entertainment weekend nights as some weeknights (the night I went there was a singer with a guitar who was turned up too loud, in my opinion).
Dress code: casual to dressy (no beach attire, thank goodness) – Le Continental recommends dressy as most guests here dress nice (it's very popular for dates).