Drinking green beer in a phony Irish pub seems to be a popular way to celebrate St. Patrick's Day in the U.S., but I don't go for that. Instead I'll be drinking a Guinness with some Guinness beef stew and capping it off with a dram of Irish whiskey or perhaps a Tom Moore Cocktail (a Manhattan with Irish whiskey).
Corned beef and cabbage is a dish I really love, so I have it year round. Here are a few suggestions of where to enjoy the classic Irish-American dish this Sunday or anytime of the year.
Every Thursday my favorite restaurant in Marin county, Marin Joe's, serves corned beef and cabbage for lunch as the daily special and it's a winner. Tender, succulent, and juicy meat, with cabbage that isn't too soggy, and plenty of food for $14. I wouldn't be surprised if they are serving it on St. Patrick's Day as well. It's not an Irish pub, but I love the original mid-century googie coffee shop-style interior and exterior. I will probably be posting about Marin Joe's again in the future.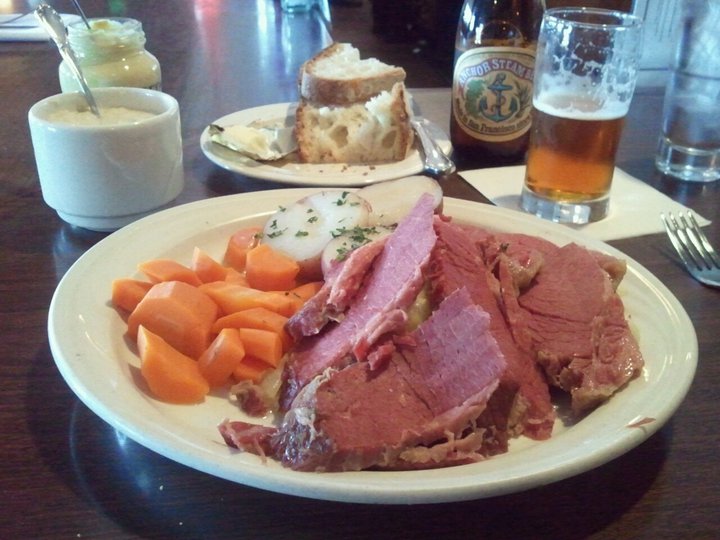 The recently refurbished Tom Bergin's is the oldest Irish pub in Los Angeles. It started in 1936 on Wilshire Blvd. as "The Old Horseshoe Tavern and Thoroughbred Club" and moved to it's current location at 840 S.Fairfax Ave. in 1949 and was renamed "Tom Bergin's Horseshoe Tavern." I went before the 2012 takeover by the owner of popular Dom's and Little Dom's restaurants but from what I've read they did not mess with the historic feel of the place. It probably will be packed on St. Paddy's Day but they serve reportedly good corned beef and cabbage every day.
In New York City you can't go wrong if you head to Neary's in midtown for corned beef and cabbage, served every day since 1967. The decor appears to have not changed much since that time, except for the addition of many photos of celebrities who have dined there.
Beannachtam na Feile Padraig! (Happy St. Patrick's Day!)

Marin Joe's
1585 Casa Buena Drive, Corte Madera, CA
Phone 415.924.2081
Open Sun 4pm-11:30pm, M-Thurs 11am-11:45pm, Fri 11am-12:45am, Sat 5pm-12:45am
Tom Bergin's
840 S. Fairfax Ave., Los Angeles, CA
Phone (323) 936-7151
Open 11:30 a.m. to 2 a.m. Monday to Friday, 10 a.m. to 2 a.m. Saturday and Sunday
Neary's
358 E 57th St, New York, NY
Phone (212) 751-1434
Open daily 11:30am – 12:00am