Since it's National Hot Dog Day I thought I'd highlight a few of my favorite hot doggeries around the country. One of my favorite historic hot dog restaurants, and tops in the country for original vintage decor, George's Coney Island in Worcester, Mass, was one of my first blog posts a few years back.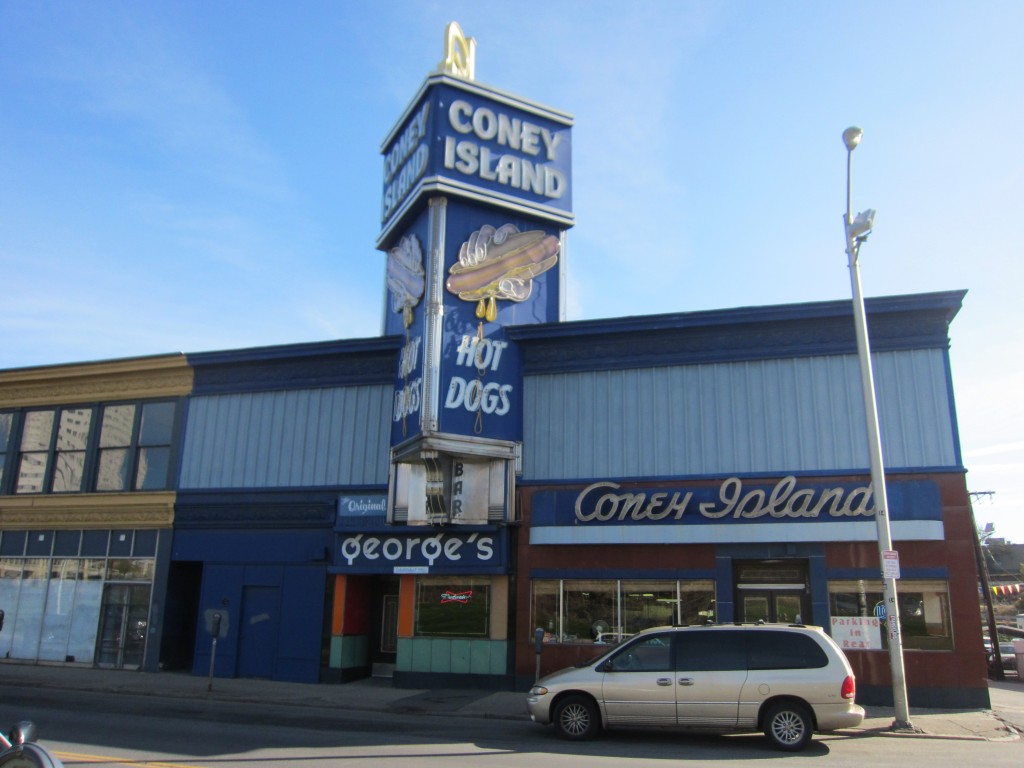 The hot dog was brought over to the U.S. from European immigrants, but its European origins are disputed. Sausage dates back to the 9th century BC (mentioned in Homer's Odyssey), while the type of sausage used for hot dogs is similar to Weinerwurst or Vienna Sausage, which originated in Austria. However, the city of Frankfurt, Germany, claims it invented the frankfurter or "dachsund sausage" in 1497. Yet another claim is that a butcher in Coburg, Germany, invented the hot dog sausage in the 1600s and brought it to Frankfurt.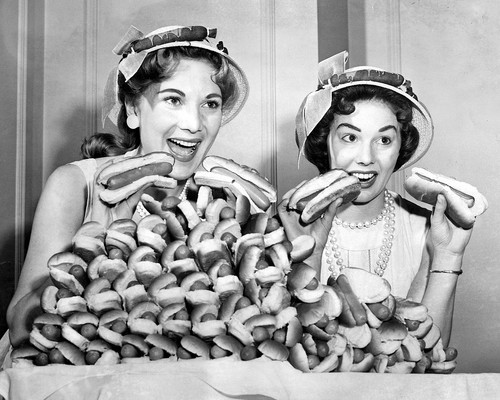 In any case the American hot dog on a roll is what we are concerned with here, which was reportedly already a German custom to eat sausage on a roll. It is a fact that hot dogs were first sold in New York City, either by a German immigrant from a cart in the Bowery in the 1860s or by Charles Feltman, a German butcher who opened the first Coney Island hot dog stand in 1871 (his employee, Nathan Handwerker, started Nathan's in 1916). In 1893 hot dogs became popular at baseball parks and sold like hot cakes (or rather like hot dogs) at the Columbian Exposition in Chicago (sold by a pair of Jewish immigrants from Vienna who later founded Vienna Beef, Chicago's most popular hot dog manufacturer). Also in 1893 the oldest mention of the term "hot dog" on record occurred in a Knoxville newspaper. (For more hot dog history visit the National Hot Dog and Sausage Council's web site, where I sourced this info).
Which city has the best hot dogs: New York or Chicago? People will argue this forever, but based on my experience Chicago wins hands down for best hot dogs in the country. Then there are the arguments within Chicago about who has the best hot dogs. We won't go there because there are so many different types of hot dogs in Chicago (likewise, for pizza). There's the classic Chicago dog "dragged through the garden" that is a steamed all-beef frankfurter on a poppy-seed roll with sliced tomato, raw chopped white onions, yellow mustard, bright green sweet relish, pickled sport peppers, celery salt, and a pickle spear (but never ketchup), reportedly invented at Fluky's in 1929 (sadly, the only Fluky's left is at a Wal-Mart in Niles, IL). Then there's the char-grilled "char-dog", which is terrific at Weiner's Circle, where they only serve hot dogs cooked that way. And until it closes this October, the always busy Hot Doug's serves dozens of hot dog specialties.
My favorite hot dog stand in Chicago is Superdawg. My Chicago friends may not agree, and I admit the hot dogs at Weiner Circle and Gene and Jude's are great also (Wolfy's is another one that comes out on top in polls), but I love the all-original drive up with car hops that is SUPERDAWG! Opened in 1948 by Maurie and Flaurie Berman, who have been represented on the roof of the restaurant as caveman and girl "dogs" since the beginning, it hasn't changed much and, amazingly, it is still owned by the Berman's, who run it with their children. They still have the same ordering system as in 1948: you drive in to the parking lot, order from your car into a mic/speaker, and your meal is brought to you on a tray in a very cute vintage looking box, which you will want to take home as a souvenir (mine still sits in my kitchen). This is one of the last restaurants in America that still has car hop service.
In addition to the Superdawg™, which is a spicy dog that comes fully dressed and includes a pickled green tomato wedge, they also offer a Whoopskidawg®, which is a Polish-type sausage on a roll with special sauce, grilled onions, and pickle, and several other sandwiches. Their crinkle-cut super fries are excellent.
In New York City your best sources for hot dogs are the many hot dog carts around the city and the bargain Papaya-drink-and-two-hot-dogs stands which started in 1932 when Papaya King opened on the upper East Side of Manhattan (still on the same street corner of 86th St and 3rd Ave, and in several other locations in NYC). Although it originally only sold fruit drinks it started serving hot dogs because the neighborhood was predominantly German-American at the time. In the 1970s and 1980s Gray's Papaya and Papaya Dog copied the concept, but Gray's is down to only one location. Which is the best? I'll let you be the judge as I've only been to the original Papaya King.
If you're in Georgia, the town of Macon is worth a detour for Nu-Way Weiners, open since 1916 (their sign was misspelled in 1937 and they kept it that way to this day) and still in the same location (plus several other locations). Their specialty is chili dogs, which are made with their special homemade chili sauce (no beans, just the way I like a chili dog).
My favorite hot dog stand in greater Los Angeles closed and was demolished in 2011. Papoo's Hot Dog Show (yes, it was more than just a stand, it was a SHOW!) opened in 1949 in Burbank, across the street from Bob's Big Boy designed by Wayne McAllister in the Googie style in the same year (and still open).
You can see Papoo's in the original version of Invasion of the Body Snatchers (1956).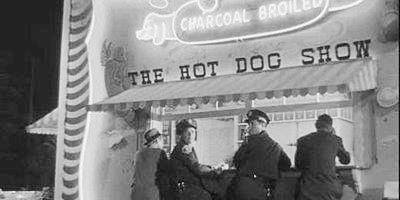 Lastly, in the San Francisco Bay Area, where I live, I've been disappointed by most of the hot dogs I've had (they are usually lukewarm, not hot). My favorite was the old Kasper's on Telegraph Ave at Shattuck Ave, which closed "for remodeling" way back in 2002 and never re-opened. Kasper's was started by Kasper Koojoolian, from Armenia, in 1930 at the corner of Fruitvale Ave and MacArthur Blvd (old US 50). Partners invested and It expanded into other locations in the 1940s, but in 1955 Kasper's brother Paul split off, continuing as Kasper's, while the rest of the partners started a chain of hot dog restaurants called Casper's. Today there is still a Kasper's on MacArthur Blvd (not in the same location as the original), in addition to others in Castro Valley, Hayward, and Pleasanton.
Casper's continues with 8 Bay Area locations, and most have the original 1960s modern look in bright oranges and browns. Since 1989 the company has made its own frankfurters under the Spar Sausage name. I like the hot dogs at both Kasper's and Casper's, but Casper's has the edge for taste and for decor.
I leave you, dear readers, with this photo I took on the road in Georgia in 2005, and a video of an amazing neon sign at Taylor Brothers Hot Dogs in Visalia, CA (where I need to go!). Please check the linked web sites for location, addresses, and open hours of the above establishments.