UPDATE – On August 10, 2013, the Bella Vista closed.
In my last post I profiled a classic Continental restaurant in San Diego, The Imperial House. Let's continue the Continental cuisine focus by visiting the historic Bella Vista restaurant, in the fog-shrouded redwood forest south of San Francisco, just north of the quaint little town of Woodside. Several years ago I was on a weekend excursion with my girlfriend along Skyline Boulevard when we happened upon the Bella Vista. We were fascinated but it was closed so we returned later for the full fine dining experience. I don't know why but I didn't return for many years until a couple of years ago I dined there with friends and it exceeded my expectations for food and service, all with incredible views of the South Bay Area. I just went back with a friend last week and we had a marvelous meal, though the view was just of the fog.
The restaurant started life as roadhouse in 1927, though details of it's original name could not be found by your intrepid researcher. However, I did find out that it was called the Bella Vista Sky Lounge in the 1940s and 1950s, after what is now the main dining room was added to the original restaurant (which became the cocktail lounge and adjacent banquet room). A review in the San Mateo Times' Bright Lights column by Lloyd Johnson in 1959 had this to say:
After our last Wednesday evening
Bella Vista Sky Lounge "12′
courser" with owners Nick and
Yvonne Sanisel, we can see why
"Stu" Adams of Bardelli's and
the Giants' Horace Stoneham make
the trip up the mountain
to 13451 Skyline boulevard.

Besides being almost at the
top of the world, the club's food
is clear out of it. Frog legs saute
Bella Vista prepared with wine
was our selection. Add assorted
hors d'ouevres, tossed green salad
and turtle soup to the above,
plus dessert and coffee, and this
"buck" was well spent. Yep,
there's a cocktail lounge and
banquet space, plus a panoramic
view that's second to none.
In 1965 the restaurant was renamed simply Bella Vista and owned by Bob and Jetty Hogan, who sold it the present owners, the Ward family, in 1977.
You enter the restaurant through the cozy cocktail lounge with a fireplace (which wasn't lit on my recent visit on a Tuesday night), past the bar and into the dining room set among the redwoods with incredible views. When you make a reservation ask for a view table if possible, or at least the main dining room because there is another back dining room which may not have the same views.
The menu is traditional Continental, with emphasis on French classics, some Italian dishes, and American classics like Oysters Rockefeller and Steak Diane, which is prepared and flambéed at a station in the dining room (not tableside, but the steaks are displayed at the table before preparation). Other flambé options are a Steak au Poivre Flambé (Pepper Steak) and Cherries Jubilee. The dessert menu also offers four varieties of souffle, which are the same souffle with different sauces.
Our meals came with very tasty side vegetables: a potato dish, some pureed carrots, and excellent green beans that tasted like they came out of a local garden. I had the huge lamb shank, which had ultra-tender meat that fell off the bone, served with a delicious rich red wine sauce. I didn't even need a knife. My friend had the steak Diane, which he said was very tender and cooked to perfection (medium rare).
Service was excellent. The waiters wear tuxedo jackets and bow ties, and know the menu. The presentation was classic and classy, with white linens, a single fresh rose in a vase at each table, and the restaurant's custom plates.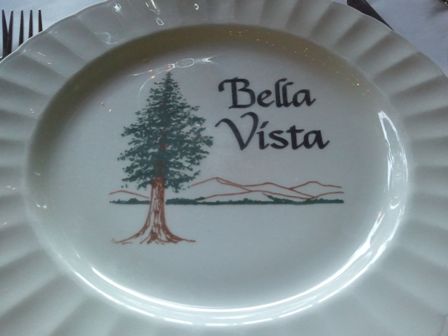 Going to this restaurant is not only like stepping back in time, but it also makes you feel like you are on a vacation to the redwood forest, yet it's only about a 40 minute drive from San Francisco and a 50 minute drive from Oakland via the San Mateo bridge. The food is great, yet pretty expensive but the views and atmosphere of the restaurant make it worth a splurge.
Video tour with an interesting historic photo:
An excellent recent review in the San Jose newspaper.
13451 Skyline Blvd, Woodside, CA 94062
(650) 851-1229
Open Tues-Sat 5:00pm-11:30pm, closed Sunday and Monday