Acting on a tip by Peter Morruzzi, last May I met some friends at Old Trieste, a 50-year-old Italian restaurant in San Diego. After my visit it has become a new favorite for me for the good food, but also for the wonderful old-fashioned service and elegant original decor and atmosphere. Thanks, Peter!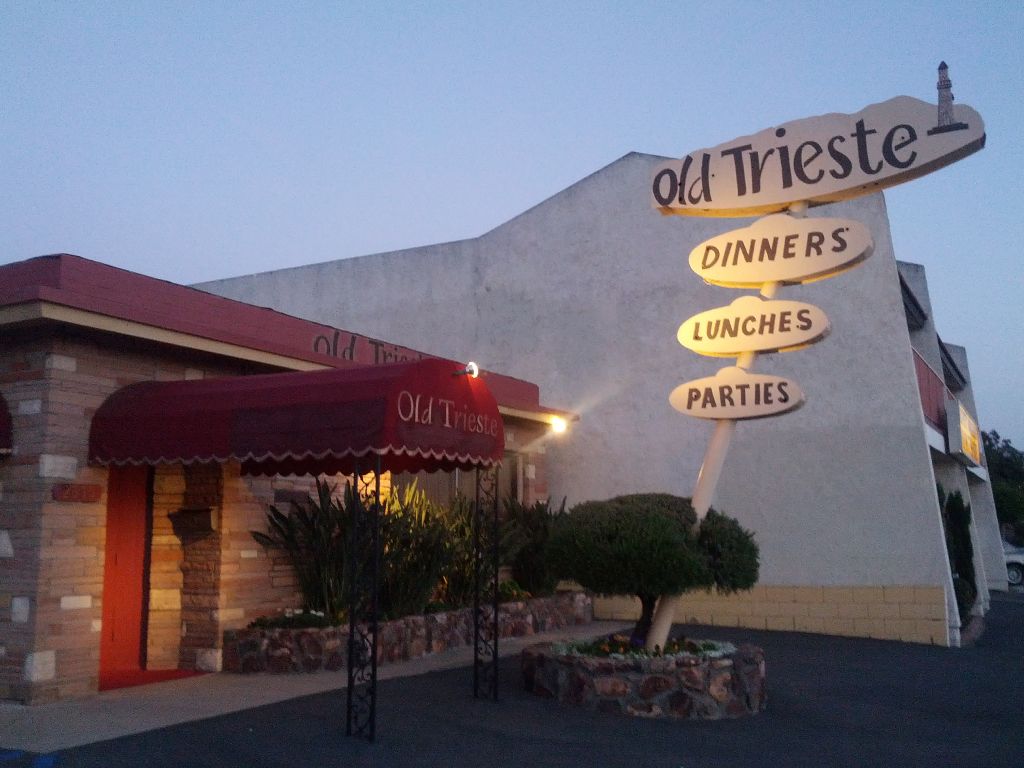 Old Trieste was opened in 1963 by Ramiro 'Tommy' Tomicich, who was born in Trieste, Italy. In those days the dress code of dresses for ladies and jackets and ties for men was strictly enforced. Over the years Tommy hosted celebrities and politicians including Frank Sinatra, Anthony Quinn, and Dr. Seuss. In 1998 when Ramiro 'Tommy' Tomicich passed away his son Larry Tomicich took over running the restaurant that he has worked at since he was 13 years old. Larry greets you at Old Trieste when you walk in the door – talk about good ol' fashioned service!
The interior is lovely and appears mostly original from 1963. There is a curvy bar with great low-back vintage bar stools covered with sparkly blue Naugahyde, a dining room surrounded by booths with white tuck 'n' roll (all the tables are booths!), white linen tablecloths, vintage framed art on the walls, and chandeliers. The walls even have original wood paneling tiles, alternating with decorative mirrors with inlaid gold patterns (that were so popular in the 1960s), and red drapes.
The menu is classic Italian / Continental fare. All tables receive the house special appetizer of fried zucchini. Specialties include veal and filet mignon, each offered in several different preparations, chicken livers Treistina, cannelloni, and seafood. Dinners come with pasta and soup or salad. I had the house special of chicken cannelloni and medaglione Romano (steak medallions with a mushroom sauce) and both were excellent. My photo came out very dark (I prefer dark restaurants) but here it is anyway because I want you to see that they still use vintage restaurant ware (from Syracuse China?).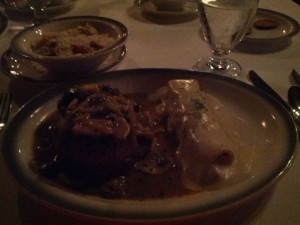 You really need to visit Old Trieste on your next visit to San Diego if you like a classy, old style restaurant experience with perfect service in a vintage dining room that takes you back to another time, before cell phones and the internet (wait, this blog is on the internet!). Seriously, get dressed up, go to Old Trieste, and wish them a happy 50th anniversary!
Old Trieste
2335 Morena Blvd, San Diego, CA 92110
(619) 276-1841
Open Tue-Fri 11:30am-2:30pm, 5:30pm-9:00pm, closed Sunday and Monday