Part three of Le Continental's Las Vegas steak house tour.
I know what you're thinking. "CIRCUS, CIRCUS? It can't be good!" The Steak House with no name in the 1970s circus themed casino has long been on my list of steak houses to try in Las Vegas. It is the highest rated steakhouse in Las Vegas in Zagat Survey for food at 28 points (out of 30), with a very respectable 24 for decor and 27 for service. There are nine steakhouses in Las Vegas in Zagat that scored close – 27 for food – but they are all newer, not classic in appearance like The Steak House.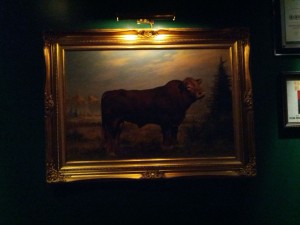 Circus Circus opened in 1968 and has expanded many times since then, with The Steak House opening in the 1983 expansion.The decor was well done (for 1983) in a men's club style with lots of wood, brass lamps with green shades, and framed pictures of western scenes and cattle.
After navigating the casino filled with families with screaming children you enter an oasis of calm and elegance. On entering you pass the dry aging room with windows so you can see the meat aging inside and a small bar area. The restaurant was nice and dark; just the way I like it. I was seated on the upper level with a good view of the dual mesquite charcoal broilers and prime rib carving station. Music by Dino and Sinatra was playing at a low volume.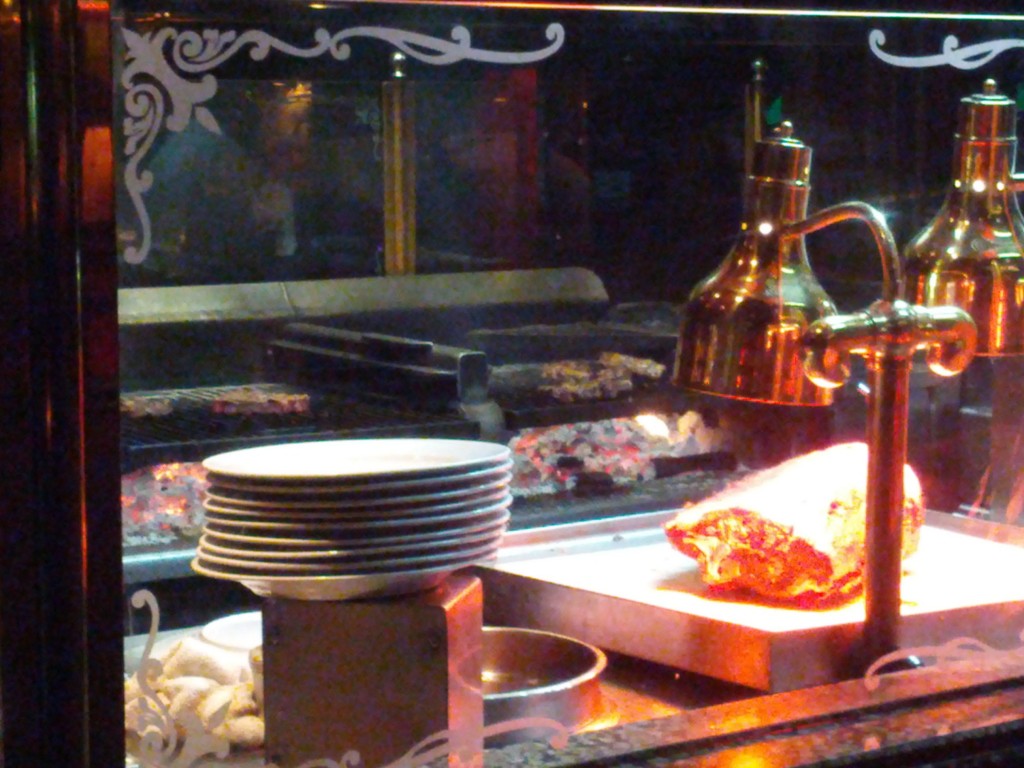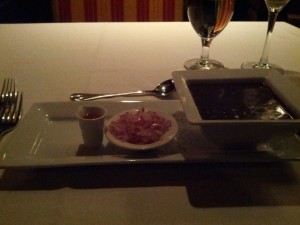 I liked the leather bound menu with a steer's head gracing the cover. Dinners come with a choice of black bean soup or salad, excellent house made breads, vegetable, and choice of potato. Considering you get all that the prices are not unreasonable at around $50 for an aged prime steak or aged prime rib (as most high-end steak houses in Las Vegas are ala carte, so by the time you order a starter and sides you are way over $50). The black bean soup is their specialty and it was without a doubt the best black bean soup I've ever had. It comes with a small pitcher of dry sherry and minced shallot to add to the soup if desired.
I ordered a New York Strip ($47) "Pittsburgh" style, which was my downfall this time. I have ordered a steak this way in the past and a couple of times it was burned beyond the desired dark brown char of "Pittsburgh", so I was gambling with such an expensive steak.
I was pretty disappointed this time with the results. Although my steak was done just right (medium rare) on the inside, the crust was black, so it had a bitter flavor. I cut off the sides and ends but it didn't save it. I could have sent it back but I was running late to catch a show I had a ticket for across town, so I ate it as is. I learned my lesson. I won't be ordering my steaks "Pittsburgh" again, except at places where I know they won't burn it (like at the Golden Steer).
The service was excellent, the atmosphere just right, and the food was delicious with the exception of my steak. I would return to The Steak House again and try the prime rib, which looked excellent (my pic above did not do justice), or another steak.
The Steak House
2880 S Las Vegas Blvd, Las Vegas, NV 89109
(702) 794-3767
Open Sun – Fri 4pm – 10pm; Sat 4pm – 11pm