Part two of Le Continental's Las Vegas steak house tour.
The Golden Steer has been my favorite restaurant in Las Vegas since I first visited with friends while attending the Viva Las Vegas weekend in the late 1990s. Originally opened in 1958, expanded by adding the bar and lounge in the 1970s, and remodeled in the 1990s, it retains an old-fashioned Victorian steakhouse ambiance. It is the third oldest restaurant open in Vegas, after El Sombrero (opened in 1950), and Bob Taylor's Ranch House (1955), which I covered last week in part one.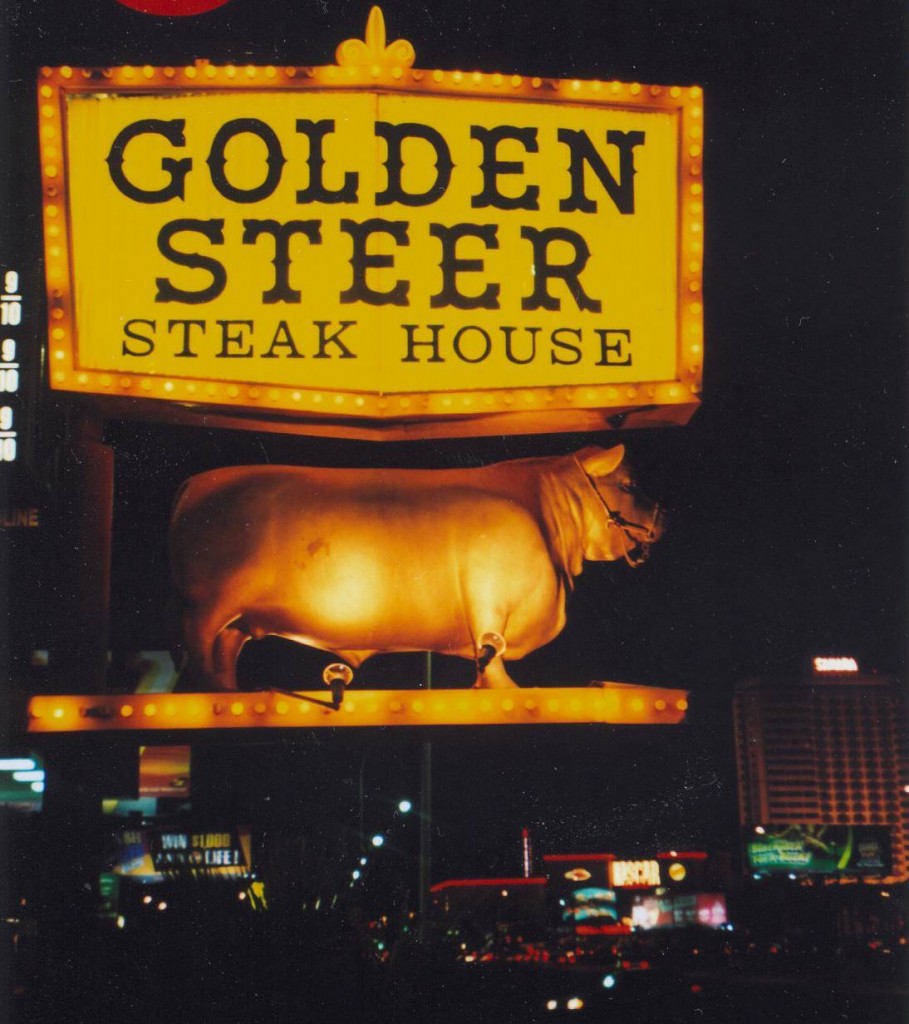 You can't miss the place for the spectacular sign out front, but the building itself is nondescript, part of a small strip of shops with parking out front (and no valet service). Once in the bar, have a seat on one of the red bar stools and order a Manhattan. It will be served in a huge cocktail glass. You're getting a double so it's worth the high Vegas price, but I prefer my cocktails smaller. The cocktail should be a short, cold drink, so it can be enjoyed before it starts getting warm (which is why most vintage cocktail glasses you find are 3 ounces). Some of my favorite steakhouses (like Harris' in San Francisco) serve cocktails in a 3 ounce glass with a mini-shaker or pitcher on the side, so you can medicate at your own pace. I wish the Golden Steer did the same. But it's a minor quibble. I love everything else about this place.
The dining room at the Golden Steer continues the Victorian club steakhouse atmosphere with wood-paneled walls, button-tufted booths, and paintings of Wild West themes. Take a look at the plaques on some of the booths honoring celebrities who have dined here, including Dean Martin, Frank Sinatra, Sammy Davis Jr., John  Wayne, Elvis, and many, many more.
For an appetizer I suggest their specialty escargots de Bourgogne. Le Continental always goes for tableside preparations so I also highly recommend the Caesar salad, prepared tableside of course. The Golden Steer serves aged prime corn-fed Midwestern beef and the steaks are excellent. I usually order the 20 oz. bone-in rib eye. On my recent visit with some local Vegas friends I asked for my steak done medium rare 'Pittsburgh' style, which means it's cooked with a good dark brown crust, and it arrived perfectly done. Warning: use 'Pittsburgh' when ordering steaks with caution. As you will see in my next post you could get burned, literally!
The potatoes and the sides are always good at the Golden Steer. This time we had creamed spinach and sautéed mushrooms. Both were delicious! The baked potatoes are huge and fluffy and you can also get old-fashioned Lyonnaise potatoes.
After dinner how about a flambéed desert, such as Cherries Jubilee or Bananas Foster? Both are made tableside and are the perfect way to end a fabulous meal at Las Vegas' best steakhouse.
The Golden Steer
308 W Sahara Ave, Las Vegas, NV 89102
(702) 384-4470
Open daily 4:30p – 10:30p