In 1919 Edward Tovrea opened the world's largest pen feeding stockyard in Phoenix, Arizona, which operated on 175 acres and could accommodate 300,000 head of cattle on their way to market anywhere in the U.S. In 1947 a restaurant opened in the center of the stockyard, designed in a mid-century modern architectural style.
The original Stockyard Cafe burned down in 1953, and in 1953-54 a large new restaurant was built, connected to a new administration building for the yard.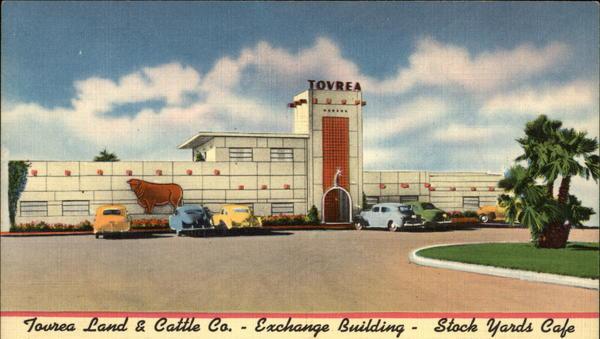 The restaurant still exists in the same location today.
The interior of the main restaurant (planned and decorated by Helen Tovrea) has been remodeled several times since 1954, most recently in 2005. However, on my 2008 visit I liked the decor of large booths and wooden tables and chairs, large wrought iron western-style chandeliers, with old photographs, western paintings and artifacts on the walls, plus a rock fireplace. But the bar (1889 Saloon) and adjacent lounge are the most spectacular and original rooms in the restaurant. There is a beautiful intricately carved mahogany bar that looks like it's over 100 years old, but it was actually built in 1954 by local cabinet-maker Russ Kapp, who is still around at 91-years old (he also made the carved wooden bar stools that are still intact). The lounge, called the Rose Room, is surrounded by gorgeous murals depicting Gay 90s scenes, painted by Catherine Patton of Pasadena.
The booths have been replaced by tables and chairs, but the murals are still intact, as seen in this photo I took.
I didn't take any photos of my dinner, but I remember enjoying an excellent steak. The steak menu (of aged, corn-fed beef) is extensive, offering a Porterhouse, two sizes of ribeye and New York strip, three sizes of filet mignon, two sizes of sirloin, a Chateaubriand, and even a buffalo ribeye.
Stockyards Restaurant and 1889 Saloon
5009 E. Washington, Phoenix, AZ 85034
602-273-7378
Open for lunch: Mon–Fri 11am–2pm
Dinner: Mon-Sat 5pm-9pm, Sun 5pm-8pm
Happy hour M-F 4pm-7pm
[mappress width="100%" height="400″ mapid="14″]