Recently Le Continental reported the imminent closure of Trader Dick's at John Ascuaga's Nugget Hotel in Sparks. Personally, it will be hard for me to return to Reno once Trader Dick's is gone since I have so many good memories there. But I'm sure someday I will go back because I'm quite fond of the area. And when I do you can bet I will eat at John's Oyster Bar in the Nugget, which has been one of my favorite seafood restaurants in the country for several years. I know what you're thinking: "seafood in Nevada?!". I usually stick to my rule of ordering seafood in coastal areas, but this classic nautical seafood restaurant is an exception because of their fresh seafood served in classic preparations that you can only otherwise get on the east coast.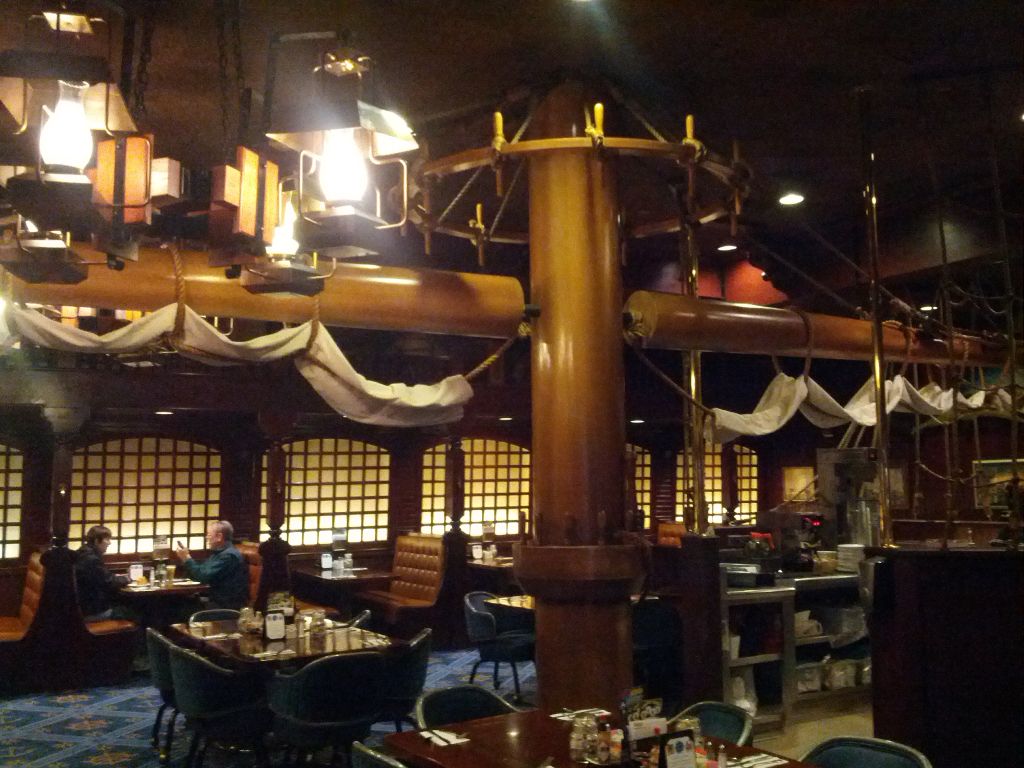 John's Oyster Bar was opened in 1959 by Dick Graves, original owner of the Nugget, after visiting the Grand Central Oyster Bar in New York City's Grand Central Terminal. In 1960 the Nugget's manager John Ascuaga took over ownership of the casino and hotel. I don't know when the restaurant was named John's, perhaps early on but possibly in 1979, when it was relocated to its present location near the casino entrance on Victorian Ave (there is a small parking lot there which is very close so you won't have to walk by what was once Trader Dick's). In any case, the restaurant's wonderful rustic nautical decor in dark woods appears to date back almost to the beginning (as do some of the staff!). As noted in my post on Trader Dick's the hotel was recently purchased from John Ascuaga by a large corporation and will undergo some remodeling. Although they have been open about their plans for the Trader Dick's space (it's going to become a Gilly's chain restaurant) they have not announced any plans to remove or remodel John's Oyster Bar (or the steakhouse). When I was there earlier this month I asked some of the staff at the oyster bar (who still wear sailor outfits!) if the company was going to change or remove the restaurant and they replied emphatically "no". Let's hope they are right!
What makes John's Oyster Bar so unique (and one of my favorite seafood places) is that you can get old-fashioned east coast favorites such as pan roasts and stews, made from scratch to order from the freshest seafood. My favorite dish at John's is the pan roast, which is a delicious stew made from your choice of oysters, shrimp, crab, or lobster (or in combinations), with white wine, clam broth, cream, butter, cocktail sauce, and lemon juice, all made from scratch in a special steam-heated pan, which swivels so the cook can pour it in a bowl when it's done without spilling a drop. I love to sit at the bar near the pans and watch them cook my roast. As far as I have found, this is the only place in the west where they cook in these pans and I have never seen a pan roast on any west coast seafood restaurant menu. On my recent visit a couple sat near me that drove all the way up from Sacramento just to get a pan roast!
The restaurant's menu also offers seafood stews with butter and cream (made in the special pans), seafood cocktails and Louie salads, fresh oysters on the half shell, steamed clams, cioppino and bouillabaisse, as well as seafood sandwiches and some fried platters, and the Seafood Extravaganza of Maine lobster, jumbo prawns, scallops, calamari, crab, clams, and mussels sautéed with tomatoes, garlic, shallots, & herbs, finished with white wine and lemon juice ($23.50). But I'll have a pan roast, if you please.
John's Oyster Bar
1100 Nugget Ave, Sparks, NV
(775) 356-3300
Open daily 11:00am – 9:00pm