Since Thanksgiving Day is almost upon us and I just returned from one of my favorite cities in the U.S., Portland, it's a good time to feature Huber's Café, Portland's oldest restaurant.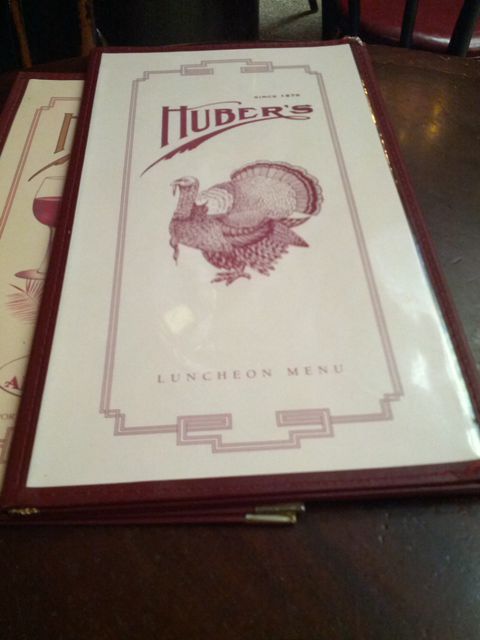 Huber's Café claims to be in operation since 1879. But does it really go back that far?
There are three important factors when looking at a claim of oldest restaurant in any place: the name, the owner(s), and the location. In my opinion, if all three factors change several times it is unreasonable to claim that it is the same restaurant. However, if one or two of these factors remains unchanged over the years then it is close enough to being the same restaurant. In the case of Huber's, the name has remained the same since 1895, it has existed in the current location since 1910, and the management has been in the same family since 1912, so it is reasonable to claim that the restaurant originated in 1895, but not in 1879. However, that still makes it Portland's oldest restaurant.
Another restaurant in Portland that sometimes makes the claim to be the oldest restaurant in town, Jake's Famous Crawfish, says it originated in 1892, but its current location opened in 1911, became Jake's in 1920 through a change in ownership, and has been through several more ownership changes, most recently by the McCormick & Schmick chain in 1972. So by my rules it dates back to 1911, not 1892.
Huber's History
Frank Huber started working as a bartender at the Bureau Saloon (established in 1879) at First and Morrison streets in 1884. He took over ownership in 1888 and hired a Chinese cook named Jim Louie in 1891. In 1895 Huber opened Huber's bar on Washington Street, with Louie as the cook. In 1910 Huber's moved to its present location in the Pioneer Building, formerly the Railway Exchange Building. Jim Louie took over management of the bar when Frank Huber died in 1912, and converted it into a restaurant when Prohibition was enacted. In 1941 Jim's nephew Andrew joined as the Louie family entered into joint ownership with the Huber family. Upon Jim's passing away in 1946, Andrew took over management, and became sole owner in 1952. Impressively, the Louie family are still owners of Huber's.
The main bar and dining room are accessed via a long hallway from the main 3rd street entrance (I recommend you avoid the newer bar area's entrance to the left). The room features mahogany wood paneling, tile floors, a beautiful arched ceiling with massive stained glass skylights, and wrought iron lamps, all dating back to the 1911 opening.
Let's talk turkey! Jim Louie started featuring turkey dinners with all the trimmings at Huber's back in the 19th Century (check out the oil painting of Jim in the restaurant), and it's still a specialty today along with turkey sandwiches, turkey gumbo, turkey piccata, marsala, and cordon bleu, as well as turkey drumsticks and wings. They also serve a great sliced ham dinner, or you can get a combination turkey/ham dinner, which is what I had on my recent visit. The turkey was moist and tender and the ham was also very tasty. I liked the sage dressing and mashed potatoes but the vegetables were a bit undercooked.
Another specialty at Huber's is Spanish Coffee, a sweet blend of Bacardi 151, triple sec, Kahlua, and coffee, made tableside with plenty of flame and flair, and topped with whipped cream and nutmeg. It was developed in the 1970s by James Kai Louie, Andrew Louie's son, but one online source claims he got the idea from the Fernwood Inn in Milwaukee.
Huber's Café, where every day is Thanksgiving! Happy Thanksgiving to you, dear readers!
Huber's Café
411 SW 3rd Ave., Portland, OR 97204
503-228-5686
Open Mon-Th 11:30am – 10pm (bar open until midnight), Fri-Sat 11:30am-11pm (bar until 1am), Sun 4pm-10pm