There is one restaurant I visited on my trip to San Antonio last May that I have not posted about yet, and it's a great Western-style steakhouse: The Barn Door.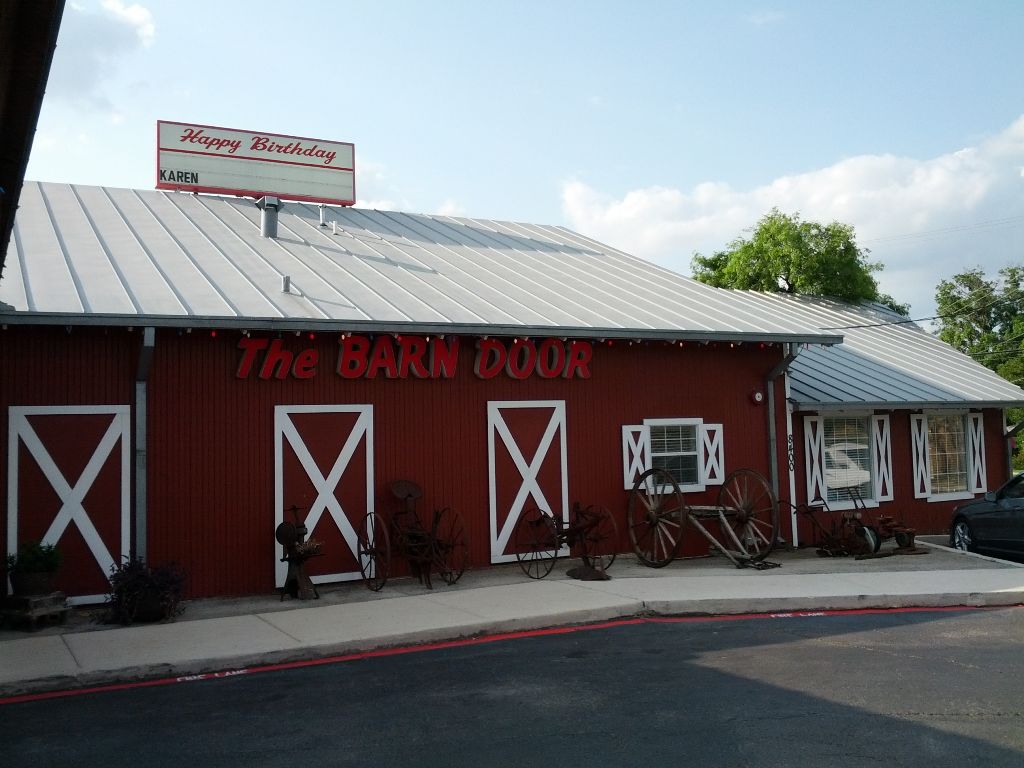 Conveniently located near San Antonio International Airport, it was way out in the middle of nowhere when it first opened in 1953 (though details are scant online).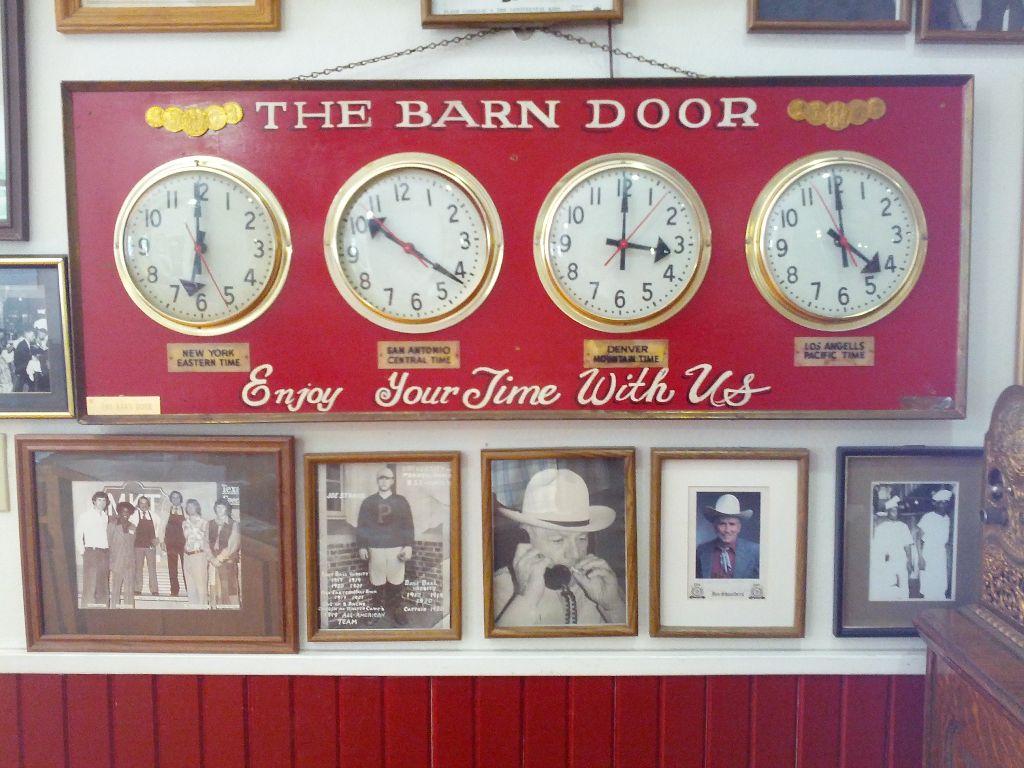 When you enter you see a wall of framed photos and memorabilia next to the host stand. The host takes you to your table past the display cases of steaks and desserts, such as the homemade pies and cakes (which are all available to take home).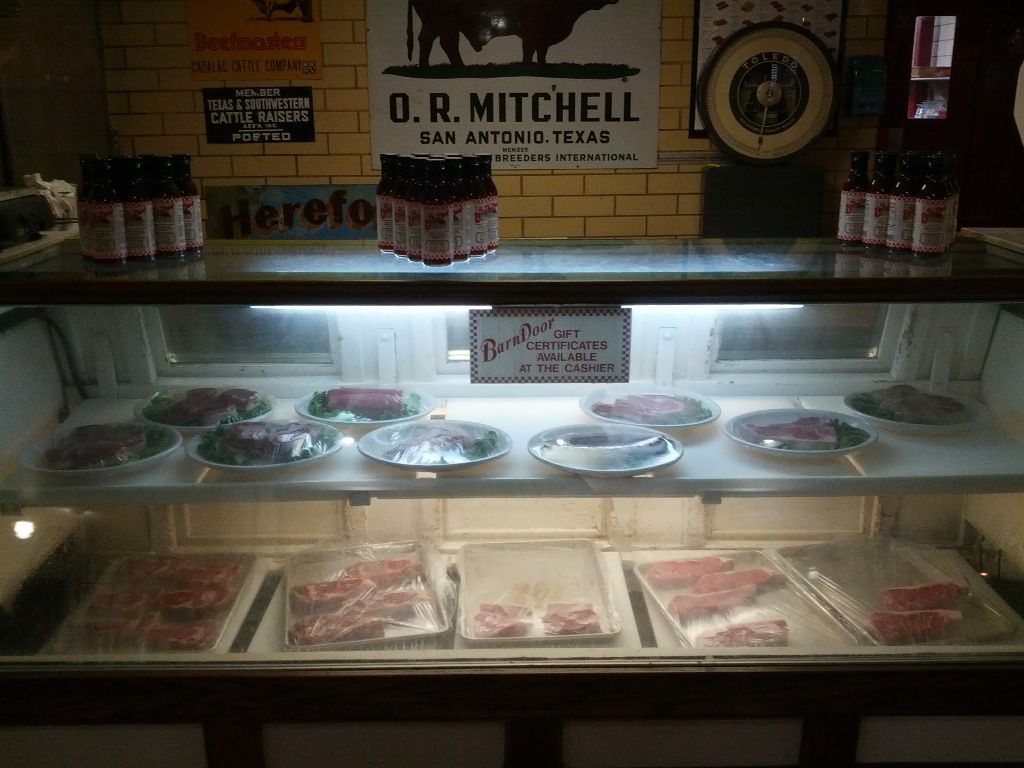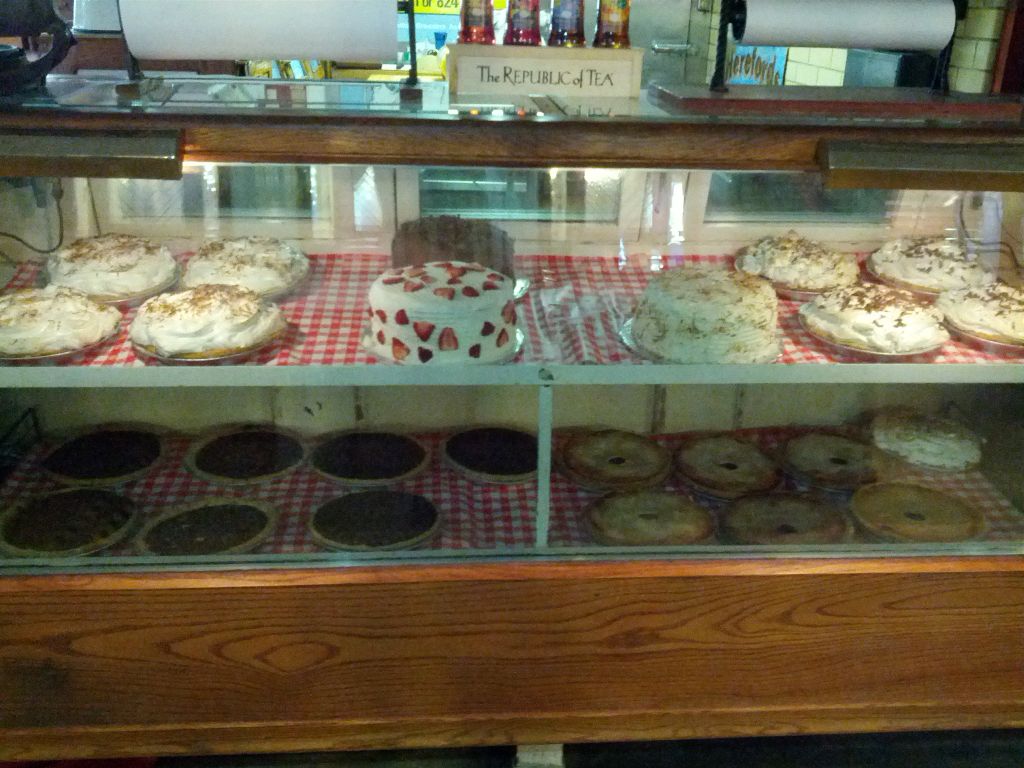 As you follow your host you begin to realize that this restaurant is huge! There are several dining and banquet rooms, all with great western decor. I was seated in the dining room where the grill is located that had red-checked tablecloths and the most dense variety of decoration.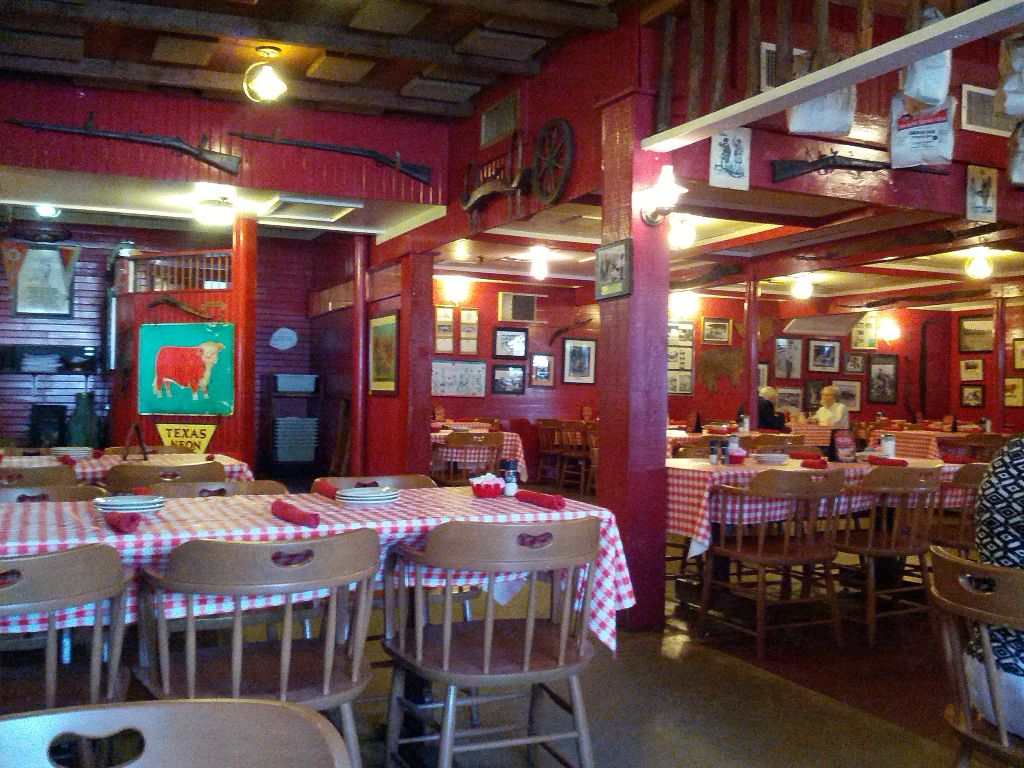 Another more refined dining room that was next to the room I was seated in: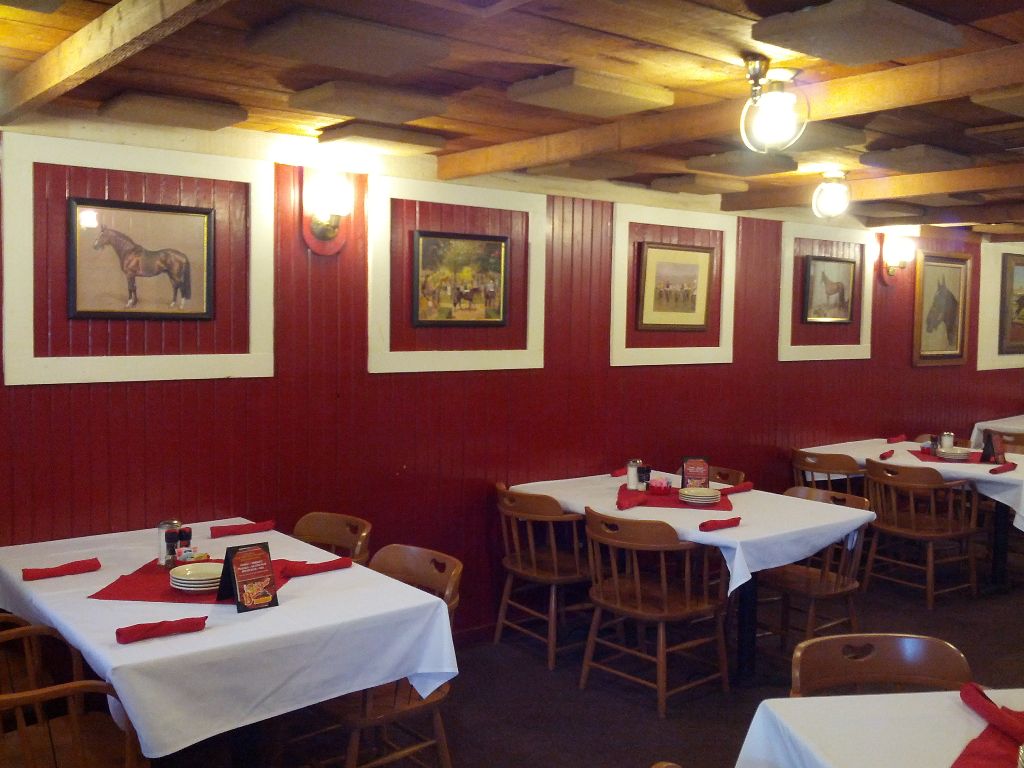 The menu is large, consisting mainly of steaks, which are wet aged "for weeks" and grilled over a combination of mesquite and charcoal, seafood from the Gulf, and other charbroiled items that are enticing, such as rack of lamb, chicken (a specialty of the house), and local quail. Dinners are very reasonably priced considering that all dinners come with salad, potato, and delicious house made rolls, served hot.
The grill master in action: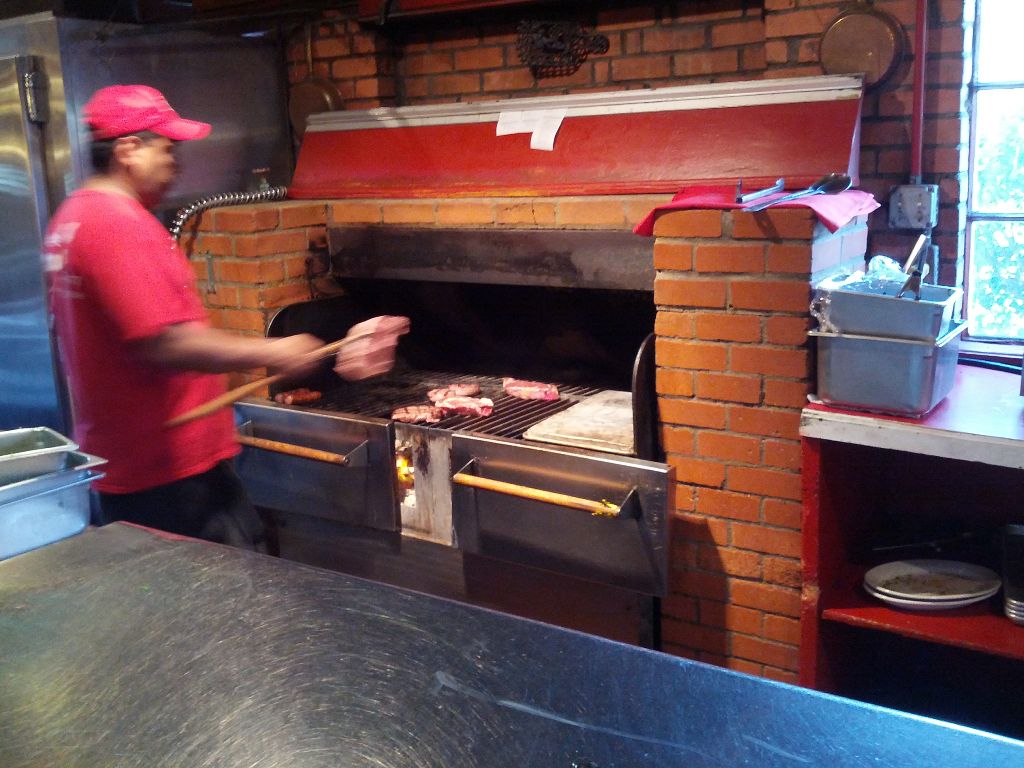 I went with the medium filet (8 oz.) since I had to have an early dinner before my evening flight home, so I wasn't very hungry yet. It was very tender and flavorful from the wet aging (sometimes filets have a lack of flavor due to less marbling but this one was not like that; perhaps the bacon it was wrapped in also helped).
As you can see my steak was cooked to a perfect medium rare. A bargain at $22.50 including sides!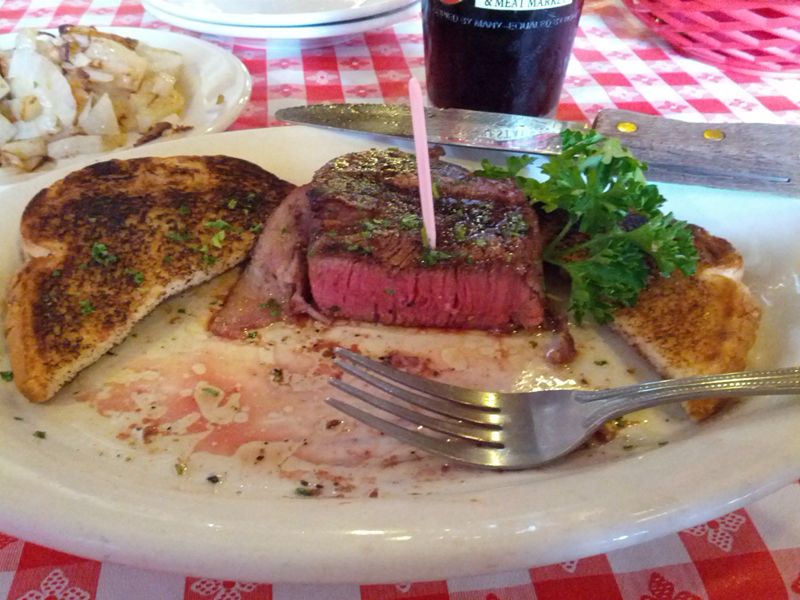 The next time you fly to San Antonio (or on a layover) The Barn Door is a must on arrival at the airport or just before leaving. It's only about 5-10 minutes from the airport terminal. The steaks are great for the price and you can't beat the old Western decor!
The Barn Door
8400 N New Braunfels Ave, San Antonio, TX 78209
(210) 824-0116
Open for Lunch: Tue-Fri 11-2pm; Dinner: Tue-Th 5-10pm, Fri-Sat 5-10:30pm, Sunday: 11-8pm; closed Monday
[mappress width="100%" height="400″ mapid="73″]