In late November / early December I returned to Spain after ten years. What a country! It's my personal favorite country, after the dear ol' United States that is. I love America for its unique cities like San Francisco, Chicago and New Orleans (to name just a few), its natural beauty, and of course its restaurants and bars (best on earth). But, back to Spain! I love their joie de vivre, their food and wine, and their way of life (big lunches and late evening socializing at tapas bars into the night). It's good to be back on Le Continental after a long absence, where I'll be posting about several historic restaurants and taverns I visited in Spain in the coming weeks.
Casa Paco on in Madrid was opened in 1933 by Francisco Morales from Guadalajara, Spain. Later the restaurant moved into its current location, a tavern which has existed since 1870. In the 1960s celebrities such as Charlton Heston, Robert Taylor, and Marcelo Mastroianni visited the restaurant, as well as bullfighters and politicians. Eventually Francisco's sons, Paco and Rosario, took over the business. As far as I was able to tell, it seems to be Madrid's oldest steak house.
When you enter Casa Paco there is a beautiful small bar, and then a small tiled dining room (see pic below), where I ate my first lunch in Madrid this trip. There are also dining rooms and a kitchen upstairs, so the waiters were running up and down those stairs all day long (they must be in great shape). I made an advance reservation as the restaurant is quite popular. I wrote out what I wanted to say, then translated that into Spanish with Google Translate, practiced it a bit, and called the restaurant from home to make the reservation. I recommend that method over asking that they find someone who speaks English when you call. It seemed to me that because I made the reservation in Spanish I was treated with much respect when I arrived for my lunch.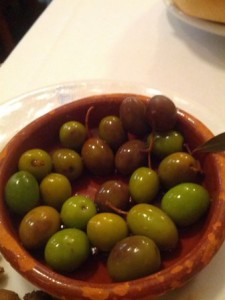 I started with an appetizer of acietunas (olives), always great in Spain (often free), and a beer.
Then I had a specialty of Madrid and environs: sopa de ajo (garlic soup). Delicious!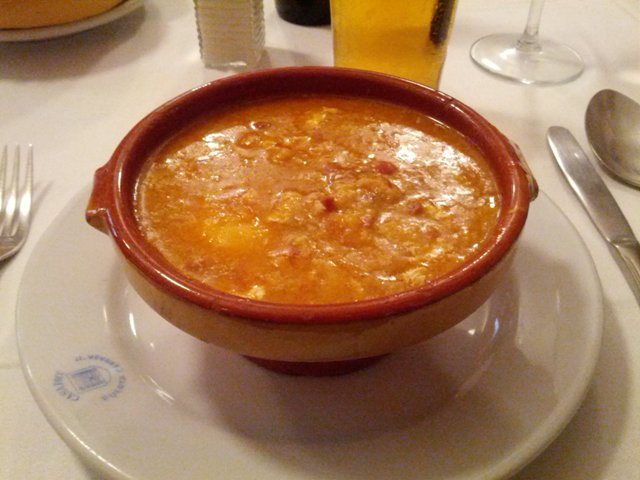 Casa Paco specializes in steaks. They offer three cuts: a tenderloin of beef (cebón de buey), veal (ternera) from Avila, and a sirloin of beef (solomillo de buey), each ordered by weight. Note: sirloin in European butchery is a more tender cut than the sirloin you see offered in the U.S. It is basically the entire part of the loin below the strip loin (New York steak). Of the Euro sirloin the thickest part is the chateaubriand, the middle is the tournedos, and the thinner end is the filet mignon (in the U.S. this term is often used also for the thicker part of the sirloin) or tenderloin. Also note: sometimes buey translates as oxen (an adult castrated male cattle), sometimes just as beef.
A media kilo in Spanish is over one pound of meat. I tried to order a tenderloin filet of 500 grams (about 8 oz.), but I think my lack of Spanish resulted in a much bigger cut (which was OK with me). At Casa Paco the tenderloin and veal cost 40 euros per kilo, while the sirloin is 50 euros per kilo. Medium rare is called poco hecha in Spanish. I thought i ordered my steak medium rare but it ended up rare (again, fine with me when it comes to the tenderloin).
When your steak comes to the table at Casa Paco it arrives loudly sizzling on a scalding-hot plate, which is then placed on a cork mat with a warning of "¡muy caliente!". Interestingly, the steaks are cooked over a coal fire, so they acquire a reddish-brown crust and not a dark brown one. The steak continues to sizzle on the plate while you eat it. Cold steak doesn't happen here!
With my steak I had pisto Manchego, a ratatouille La Mancha style with eggplant, peppers, and onions, and really good, crispy French fries. I tend to order too much in places like this because I want to try all the regional dishes! But since I didn't have dinner, just tapas at night, it was good to have a big lunch in the Spanish way. To drink with my steak I had a glass of Ribero del Duero red wine.
Casa Paco
Plaza de Puerta Cerrada, 11, 28005 Madrid, Spain
phone: +34913663166
Open for lunch Mon-Sun 1:00pm-4:00pm, dinner Mon-Sat 4:00pm-12:00am (no dinner on Sunday)