This year marks the 50th anniversary of one of my favorite seafood restaurants in San Francisco. I also love Tadich Grill, Sam's Grill, and others, but for the most consistently fresh and well-prepared seafood, Scoma's has been my place since I heard about it from "Gentleman" Jim Lange, long time Bay Area radio DJ and host of Dating Game, who in the 90s was on the wonderful "easy listening" pop and big band AM radio station KABL. Back then I drove a '68 VW Fastback with the original AM radio and it was so nice to have an AM station with good 1940s/50s/60s music instead of talk or news. Sadly, the station, which started back in 1959, changed formats to "soft rock" (an oxymoron, right?) in 2000, but listeners complained so they went back to pop, only to gradually mix in more and more 70s and 80s soft rock until it eventually quit in 2004 (it came back as an online only station in 2007).
Scoma's opened in 1965 when Al Scoma, one of the partners at Castangola's on Fisherman's Wharf, and his brother Joe bought a small 6-stool lunch counter on pier 47. They eventually expanded it into a large mutli-room restaurant that can now seat 350 people. In 1969 Al and Joe partnered with Victor and Rolando Gotti of Ernie's restaurant in San Francisco to open the still-open Scoma's Sausalito in a Victorian building that's on the National Register of Historic Sites. In 1974 Joe Scoma left to open Joe Scoma's in Emeryville (closed). There was even a Scoma's in Alameda at one time (at the foot of Sherman Street before the Marina Village development was built).
In 2002 the city named the street the original Scoma's is on 'Al Scoma Way' – that's how much of a local institution it is. It's almost always busy – in 2012 alone they served 450,000 diners – and it's still owned by the Scoma extended family. In 2015, their 50th year, they plan "a few upgrades to the restaurant's bar and dining room, though nothing major will change", so I urge you to visit very soon to see it before anything changes (and to get some Dungeness crab while you still can).
Scoma's has their own 46-foot fishing boat, which leaves early every morning to catch the freshest seafood off the coast, from salmon to Dungeness crab when it's in season (generally Nov-Mar). Next to the dock is a fish processing station that has windows so people waiting for a table can look at the fresh fish being prepared for cooking. Scoma's is a partner with the Monterey Bay Aquarium's Seafood Watch program, so you can count on the freshest seafood, local when possible, and always sustainable (though it never hurts to ask your waiter for details on anything on the menu).
The restaurant has multiple levels, but every visit except one (when I was seated on the second floor in the rear building) I've been seated in the main first floor dining room overlooking the wharf (as seen in the photo above). The walls are wood-paneled with paintings of a nautical theme, but mostly it's about the lovely views of Fisherman's Wharf (next to the restaurant). There are some photos of celebrities and sports figures on some of the walls to the right of the host stand as you enter the restaurant, so take a look around while waiting.
Inside view: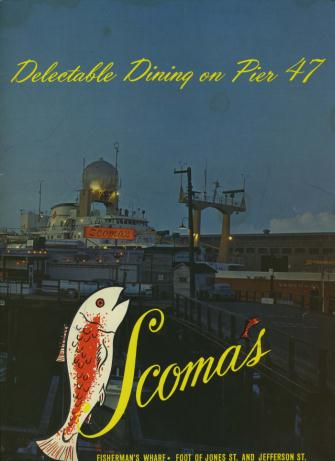 The menu at Scoma's is long, but some of their specialties are helpfully presented as Scoma's Classics: shrimp and scallops alla Gannon, "Lazy Man's" Cioppino (an excellent easier-to-eat cioppino with shelled crab meat), crab or shrimp Louis, mixed seafood grill featuring the day's fresh catches, and shellfish sauté sec (mmm, I'm getting hungry). When it's in season, I often get the garlic-roasted Dungeness crab. Other local specialties include petrale sole doré and grilled sand dabs, and they have classic lobster Newburg and Thermidor (at reasonable prices). I highly recommend halibut when it's available. Each time I've had it at Scoma's it's been tender, juicy, and succulent, not dry and overcooked like I've had in some other restaurants. Meat lovers can get steak, ribs, or a hamburger.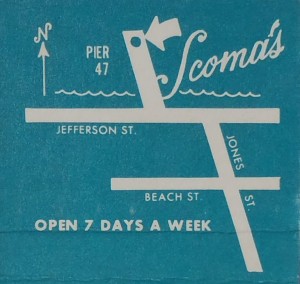 To get to Scoma's find your way to the corner of Jefferson and Jones and head down the pier (Al Scoma Way). Valet parking is complimentary.
Scoma's
Al Scoma Way
San Francisco, CA 94133
(415) 771-4383
Open daily 11:30am – 10:30pm