Roundup of Bay Area old west style roadhouses – part one of three.
We are real lucky in the San Francisco Bay Area because we have three (perhaps more) old western style roadhouses/restaurants. That's more than in any town in Texas that I know of! In fact, there may be more here than in any other city in the U.S. I challenge my readers to name another city with three vintage western style restaurants!
In the countryside of West Marin County, California, there is a ranching village that looks frozen in the 19th century – Nicasio, population 96 (2010 US Census). In the town there is a church dating to 1867, a one-room schoolhouse from 1871, a town square with a baseball diamond, and Rancho Nicasio saloon and restaurant, built in 1941 on the spot where the Hotel Nicasio (1867) burned to the ground in 1940. The restaurant is in a ranch style building along with a general store and post office.
The bar is filled with taxidermy, old photos of the Nicasio area, and a wagon-wheel chandelier hangs from the ceiling. You can eat in the bar if you prefer, or to avoid a band cover (or a band you don't care for).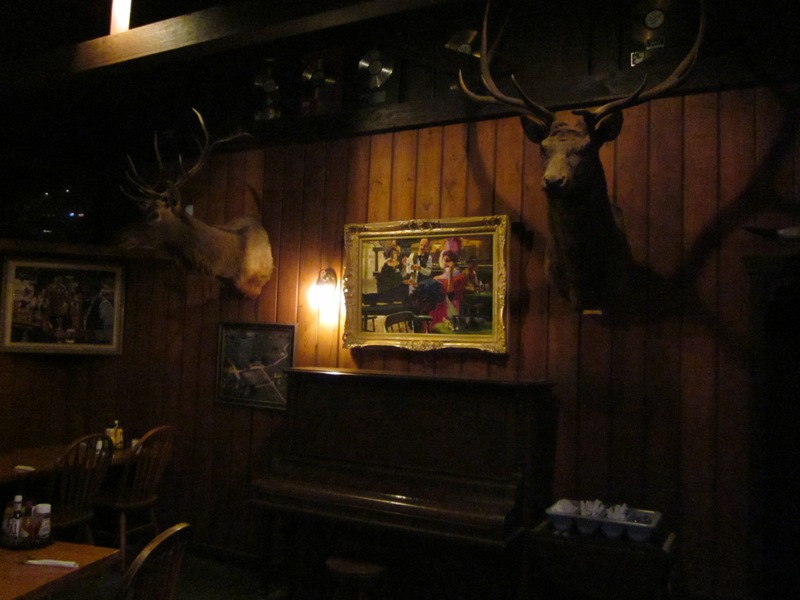 The dining room is a large with many wooden tables and a big wooden dance floor and stage, where bands play most weekend nights (Fri-Sun) starting around 8:00pm (the cover charge varies – sometimes there is no cover and the band passes the bucket) . The best way to experience the Rancho is to book a table at around 6:00-7:00pm so you can have dinner before the show, preferably seeing a country and western band like local western swing acts The West Coast Ramblers or the Lone Star Retrobates or Los Angeles act Big Sandy & His Fly-Right Boys (all personal favorites and highly recommended!).
Allow plenty of time to get there because the roads are windy and treacherous and it's nice to have a stroll around the village before dinner (if you arrive before dark). The food is good. On my recent visit I enjoyed the excellent lamb medallions (and a chilled iceberg wedge salad), but the steaks and the pork chop are also good choices. On summer weekends starting Memorial Day weekend they have barbeques out back with live music. The fog often rolls in during the late afternoon so bring a jacket.
Polish up your steppin'-out boots, put your Stetson on, and head out to the Rancho for a wild time!
Rancho Nicasio
1 Old Rancheria Road, Nicasio, CA 94946
(415) 662-2219
Open for lunch Mon-Fri 11:30am-3:00pm, Sat-Sun 11:00am-3:00pm
Dinner Sun-Th 5:00pm-9:00pm, Fri-Sat 5:00pm-10:00pm
[mappress width="100%" height="400″ mapid="25″]