When driving between the Bay Area and Los Angeles I prefer taking either U.S. highway 101 near the coast or U.S. 99 in the San Joaquin Valley over boring I-5. I have fond childhood memories of riding in the car on 99 during trips from San Diego to the Sierras or the Gold Country and beyond, watching the trucks on the concrete highway or the trains running alongside. Although much of old highway 99 (aka Business 99) has gotten run down and seedy there are still many interesting sights and antique stores, safe & clean motels, and good independent restaurants along the route. Highly recommended for your exploring along 99 are the series of books by Living Gold Press called That Ribbon of Highway. For over 15 years one of my favorite eateries along the route has been the Branding Iron, an absolute must-visit after dark (as you will see later in this post).
In the 1940s Ray Douglas opened the Pine Cone restaurant in Merced, along what was then U.S. Highway 99 next to the train station. In 1952 he added the Branding Iron steakhouse on the site, which is where the Branding Iron still stands today. He eventually expanded into a chain of Pine Cone / Branding Iron restaurants and inns throughout Northern California. Locations included San Jose at Valley Fair Shopping Center, San Leandro at Bay Fair Shopping Center, Santa Clara at 5155 Stevens Creek Rd, Sacramento on Marconi near Fulton, Fresno at the Tradewinds Motor Hotel, Modesto at 1310 McHenry, and three locations in Merced. All are long closed or converted to other restaurants except the Branding Iron in Merced. On the advertising images for the Branding Iron a steak is being branded with the initials 'RD'. I wonder if your steak used to come branded like that?
In 1987 the Branding Iron was damaged by fire and closed. Greg Parle purchased the restaurant and restored it, re-opening it in 1988. Greg, his wife Kara, and their son Justin own and run the restaurant today. On my recent visit Greg was at the exit personally thanking his customers for coming (you don't see that at chain restaurants!).
Upon entering the lobby of the Branding Iron on your left is the cocktail lounge with red tufted vinyl bar stools but too many TVs for my liking (it seems like every time I return there is one more TV in the bar). But that's OK because the restaurant, on your right after entering, is just the way I like it – original 1950s ranch with western touches. Almost everything looks original, from the gorgeous open-beamed wood ceiling to the red tufted banquettes and booths, early American furniture, touches of brick, and in the rear dining room the beautiful copper fireplace (which unfortunately was not used on the chilly night I visited).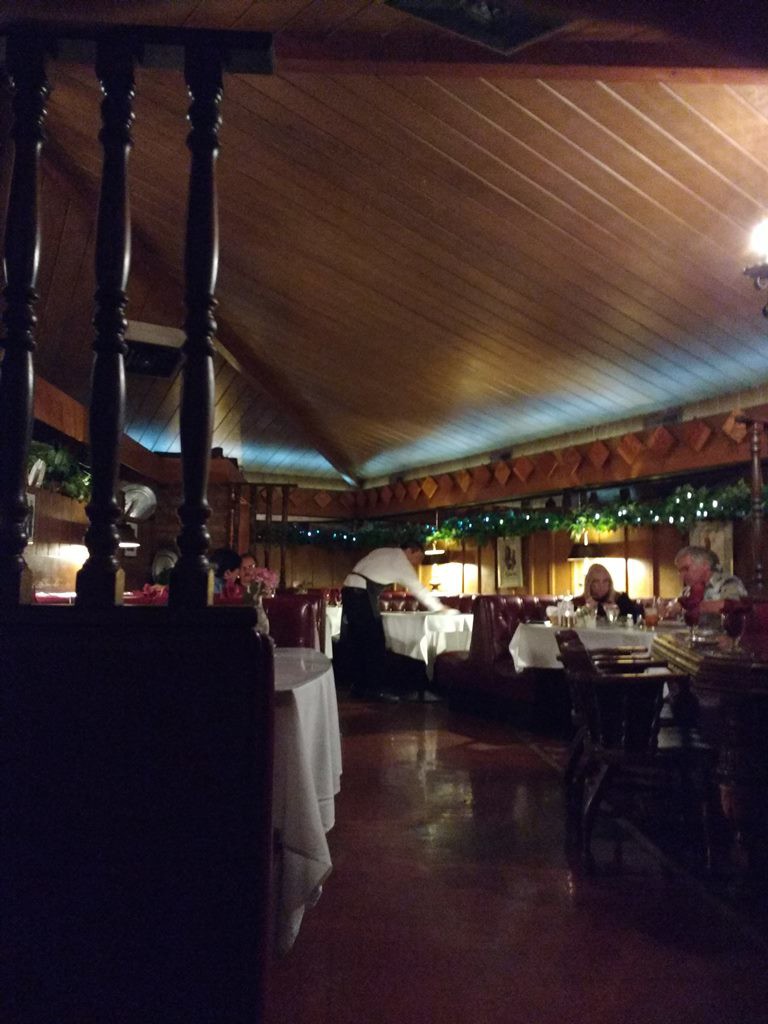 I even like the planter boxes filled with plastic plants along the clerestory windows on the back wall. There are over 200 cattle brands from area ranches displayed on wooden plaques and engraved on the large wooden beams throughout the restaurant. And don't you love how the recessed lighting enhances the beauty of the tongue and groove paneled wood ceiling? As an added attraction, for me anyway, while dining you can hear passing trains on the nearby tracks (the train station is next door making it a convenient stop if you're riding Amtrak through the valley).
The menu, of course, specializes in beef, but also includes plenty of chicken, fish, and other dishes. They are famous for their gazpacho, a chilled tomato soup. Dinners may be ordered without soup and salad and come with a vegetable of the day, garlic bread, choice of potato or rice, and a plate-cleansing raspberry freeze, or for a small additional charge you can have a 'deluxe' dinner with homemade soup and salad. The last time I went I had the coffee-rubbed ribeye and it was tasty and tender. But I also recall liking the baseball cut top sirloin on a previous visit, a lean steak that can be chewy but is juicy and very flavorful if not cooked too long (so order it rare or med. rare). Their prime rib is also a specialty. It comes in three different sized cuts and is herb crusted and delicious. Other steaks on the menu include the Branding Iron (flatiron), filet mignon, New York strip, and a ribeye without the coffee rub.
---
A note on steaks that applies to many steakhouses around the country:
I have found that at steakhouses that are less expensive sometimes the steaks are cut thinner than at the more pricey steakhouses that age their beef (this does not mean that the beef is not as good). So it is my recommendation to order your steak less well done than you normally like it. For example, if you prefer medium rare (red, warm center) as I do order it rare. You can always send it back if it needs a few more minutes. Otherwise you may find your steak is closer to medium at the thinner edges. If you like your steak medium (pink center) order it medium rare. I ordered my ribeye at the Branding Iron rare and it was just right – red, but warm throughout.
---
The Branding Iron serves lunch and they have an outdoor patio during the warmer times of the year. The Roundup, three small steaks wrapped with bacon on a skewer with onions and bell pepper, served with fries, is a bargain at lunchtime. Also, the lunchtime menu is loaded with sandwiches, salads, and many of the steaks that are on their dinner menu. But if you don't go at night you will miss the best animated neon sign for miles around!
The Branding Iron
640 W 16th St, Merced, CA 95340
(209) 722-1822
Open M-F for lunch 11:30am-2:00pm, daily for dinner 5:00pm-9:00pm (until 9:30pm on Friday and Saturday), cocktail lounge open daily 11am-11pm (bar food served M-F 2pm-9pm, Sat-Sun 5pm-9pm)