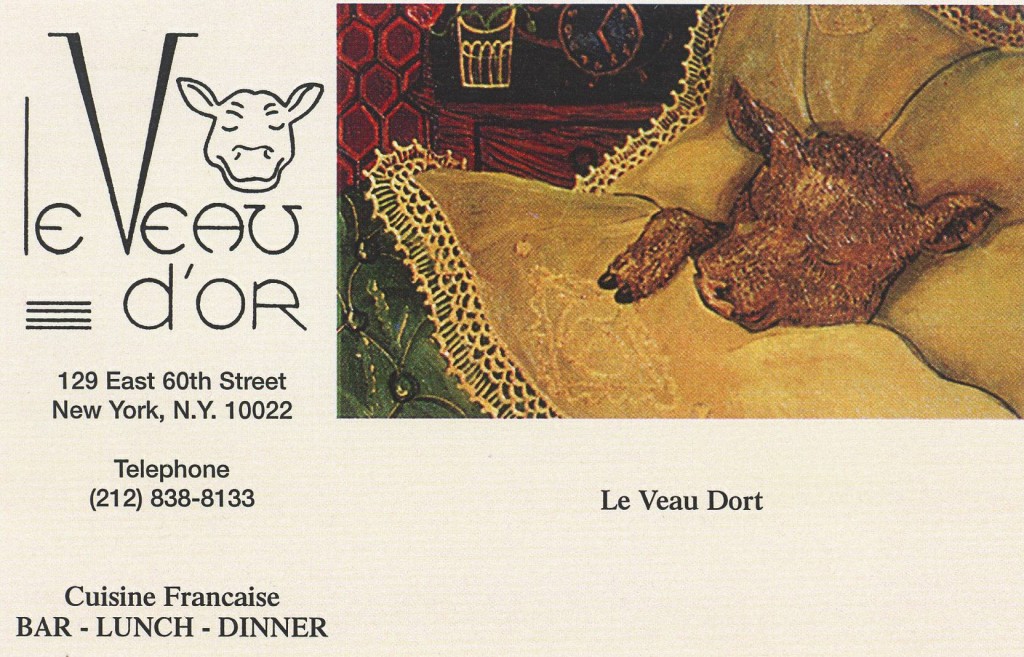 I first heard about this classic French restaurant on Anthony Bourdain's "No Reservationsssaaah" show, Disappearing New York episode. After seeing the show it became my no. 1 must-visit restaurant on my next visit to New York. This year I made it, and I loved every minute of my visit and meal.
The 55-seat restaurant opened in 1937, four years before the world famous Le Pavillion was opened in Manhattan by Henri Soulé, introducing America to haute French cuisine. In the 1950s Robert Tréboux, who was born in France in 1924, worked as a waiter at Le Pavillion. He later operated five French restaurants, culminating in him taking ownership of Le Veau D'Or in 1985. He lives above the restaurant and is the maître d', helped by his daughter Cathy Tréboux. The menu is a trip back in time as much as the restaurant itself, offering classics such as escargots, coq au vin, beef Bourguignon, vichysoisse, and grenouilles (frog legs), mostly unchanged since the place opened. Prices are reasonable considering the menu is table d'hôte (includes appetizer, entrée, and desert), and lunch is a bargain at $22 for three courses.
The food was delicious, especially the rich beef bourguignon. But the desserts were just fair. The service was excellent and attentive, and the atmosphere was relaxing and quiet, a perfect getaway from the noisy streets of midtown.
Le Veau D'Or
129 E. 60th St. near Lexington Ave., New York, NY 10022
Open Mon-Sat, noon-3pm and 5:30pm-10pm; closed Sunday
(212) 838-8133
No website found, but the menu is here.
[mappress width="100%" height="400″ mapid="10″]